Find tips and answers to commonly asked service and care questions offered by TruGreen®.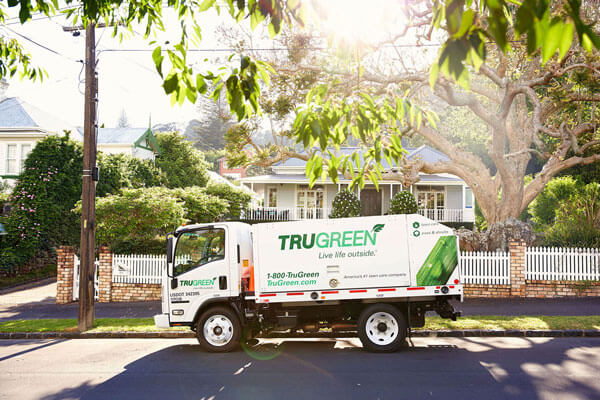 If you're new to TruGreen or thinking about trying out one of our lawn care plans, we know you probably have questions.
Is my TruGreen service guaranteed?
Yes, indeed! We stand by our product and offer our Healthy Lawn Guarantee®. This includes  visiting your property outside of scheduled visits to make any necessary adjustments to ensure a healthy lawn and your satisfaction.
Do I need to do anything to prepare for my first service?
On scheduled service days, please allow access to your property by keeping gates unlocked and your pets inside your home.
What if I'm unable to be home for my service visit?
That's no problem at all! If you can't be home for your visit, we'll leave a service summary at your front door and email you with details about the services we've performed. Reminder: Please keep gates unlocked and remember, while we do love pets, please make sure to keep yours safely inside your home.
When should I expect to see results?
If weeds are present on your lawn, you may notice visible results within a few weeks of your first visit. Depending on the condition of your lawn, it can take time to have a great lawn. As your specialist spends more time working on your lawn, its appearance will continue to improve. Every lawn and its challenges are unique, and we will provide progress updates and special instructions for your lawn at each service visit.
What is the timeframe between applications?
Depending on your plan, the typical schedule for applications is every 4-6 weeks.
Will I receive multiple applications during one visit if I purchased any additional services?
Our specialists are focused on getting you the best results, which means applying the right product at the right time. If you purchase a lawn program and any additional programs, like Tree & Shrub Care, TruShield Lawn Pest Control, or Mosquito Defense, these may be done on the same day. Your specialist could perform your lawn service, and then perform your mosquito service while on your property.
Will TruGreen service continue automatically year after year?
Automatic renewal varies, so please check with your local branch to determine if your service continues year to year. It's important to note that continual lawn care is recommended for optimal results.
When can families and pets return to serviced areas?
After a service, TruGreen advises customers to allow the application to dry before their families and pets can resume enjoying their lawns. Depending on weather conditions, the drying process usually takes from 1-2 hours.
Are the products applied by TruGreen safe?
The health and safety of our associates and the communities we serve is top priority. All products used by TruGreen are registered for use by the U.S. Environmental Protection Agency (EPA) and are selected based on a number of criteria, including health, safety and the environment.
What kind of training does TruGreen provide for lawn specialists?
TruGreen is committed to setting the industry standard for education, training and certification of our specialists. We provide an intensive training series for all new specialists, covering a variety of agronomic, horticultural and safety-related topics. Our specialists must meet TruGreen's rigorous TruExpert certification and state licensing standards to apply weed and pest control products. In addition, TruGreen also has technical managers, degreed horticulturists, in each market to provide additional local expertise. Click here to see a video for more information on our specialist training program.
Can TruGreen treat my yard for mosquitoes? If so, how?
Yes! TruGreen Mosquito Defense uses an innovative formula combined with a targeted application technique to significantly reduce the number of biting adult mosquitoes in your landscape. For the treatment to be effective, we target mosquito-attracting areas such as shrubs, mulch and wood piles.
In addition to Mosquito Defense, how can I help prevent mosquitoes from breeding on my property?
To prevent mosquitoes from breeding, eliminate any standing water that might be present on your property.
Should I water my lawn before or after an application?
For best results, your lawn should be watered after an application. If it hasn't rained 24 hours after an application, give your yard a soak.
What are some lawn watering tips?
A healthy lawn typically requires 1"-2" of water per week. We recommend long, infrequent watering (about 1-2 times per week) during the early morning hours. Why water in the morning? It's cooler out, which allows the water to soak into the soil and be absorbed by the grass roots before it can evaporate. Click here for more on watering techniques.
How often should I mow my lawn?
Actively growing lawns may require mowing more than once weekly. Plan to cut no more than one-third of the grass blade in one mowing. It's important to remember that certain grasses, such as bermuda grass, zoysia grass and centipede grass, require close mowing to stay healthy.  Click here for more on best mowing practices.
Does a healthy lawn really benefit the environment?
The environment benefits greatly from healthy, properly maintained lawns. Benefits of a healthy lawn include erosion control and runoff prevention, water and air purification, and oxygen generation. With TruGreen, you can take pride in knowing that your properly cared-for lawn is part of the solution for a healthy planet. For more information on the environmental benefits of a healthy lawn, click here.
Have a question that wasn't addressed? Please contact us.