Look for and fix these common problems to help keep your lawn beautiful and healthy. Plus, learn how TruGreen® can help keep your lawn irrigation system in top shape year-round.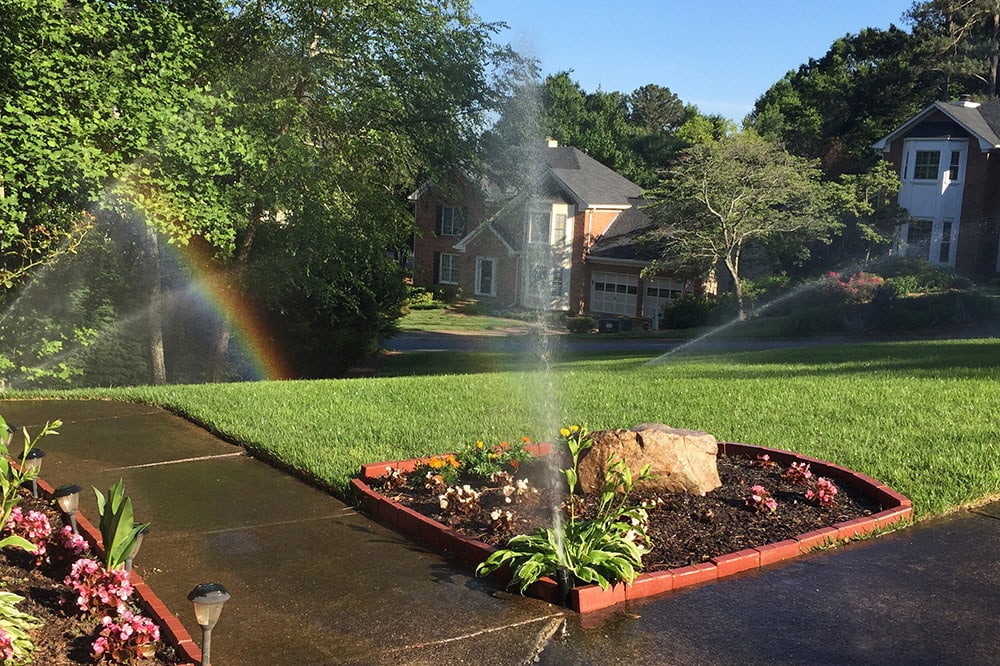 Proper watering is crucial to keeping a beautiful, healthy lawn. For many homeowners, an automatic lawn irrigation system is the easiest way to guarantee the grass is getting the right amount of water it needs. But like anything else, sometimes lawn sprinkler systems break. Below we'll identify some common repairs that are needed and how TruGreen can help keep your sprinkler system in tip-top shape.
Lawn sprinkler system maintenance
Look for these four common problems when performing routine maintenance on your irrigation system.
Clogged sprinkler head
Dirt and lawn clippings can sometimes clog your sprinkler heads, causing malfunctions such as:
Heads rising but not spraying
Heads not lowering after watering
Pools of water around sprinkler head
Unpredictable spray pattern
To clean the clogged sprinkler head, dig it out and take the head apart. Remove the plastic screen basket at the base of the head and rinse it with a hose or bucket of water to remove any clogging debris. Even if your sprinkler isn't showing signs of clogging yet, it's a good idea to add this to your list of spring cleaning.
Broken Valve
Leaks can occur in your valves both from high pressure and just general wear and tear. There are several types of irrigation valves, and each has its own maintenance requirements. Make sure to check out your lawn irrigation system every so often when it's on. If you see an external crack, the valve will need to be replaced. If you don't want to be bothered with doing sprinkler maintenance yourself, check out TruGreen's Annual Sprinkler Maintenance Plan. The plan includes year-round irrigation checkups by trained specialists to ensure top performance
Broken sprinkler head
If sprinkler heads are set too high, they can often be damaged by vehicles or lawn mowers. Check your sprinkler heads for cracked or broken plastic casings. Also, check to make sure all the heads are rising when the system is turned on and that water is spraying appropriately. As part of the Annual Sprinkler Maintenance Plan, TruGreen will provide up to 3 free replacement sprinkler heads per quarterly visit.
Obstructed sprinkler heads
While it can be easy to do, don't forget the location of pop-up sprinkler heads. As you enjoy your yard, make sure any plants, summer toys, and other new objects don't obstruct your sprinkler head. If it does, the water will not reach its intended destination and a dry spot will form in your otherwise healthy lawn. Heads can also end up being pushed further into the ground by vehicles or lawn mowers, resulting in diminished spray. Try to avoid driving over sprinkler heads as much as possible.
How TruGreen can help with your lawn sprinkler system repair
With TruGreen's Annual Sprinkler Maintenance Plan, homeowners can receive expert repair service to help prevent costly damage, conserve water and keep sprinkler systems in top condition year-round.
In the spring, your TruGreen specialist will arrive for a spring irrigation opening to ensure proper coverage and operation. They'll return midsummer for a tune-up to prepare your system for summer heat. And in the fall, they'll help winterize your lawn irrigation system to prevent damage from freezing temperatures. Repair services offered include: broken head repair, sprinkler head and timer box adjustment, rain sensor testing and repair, system renovations and updates. Services vary by location, call 866.369.9539 or ask your local TruGreen specialist to learn more!