Learn how TruGreen® helps Paul Brown Stadium, home of the Cincinnati Bengals, keep its trees and shrubs in top shape.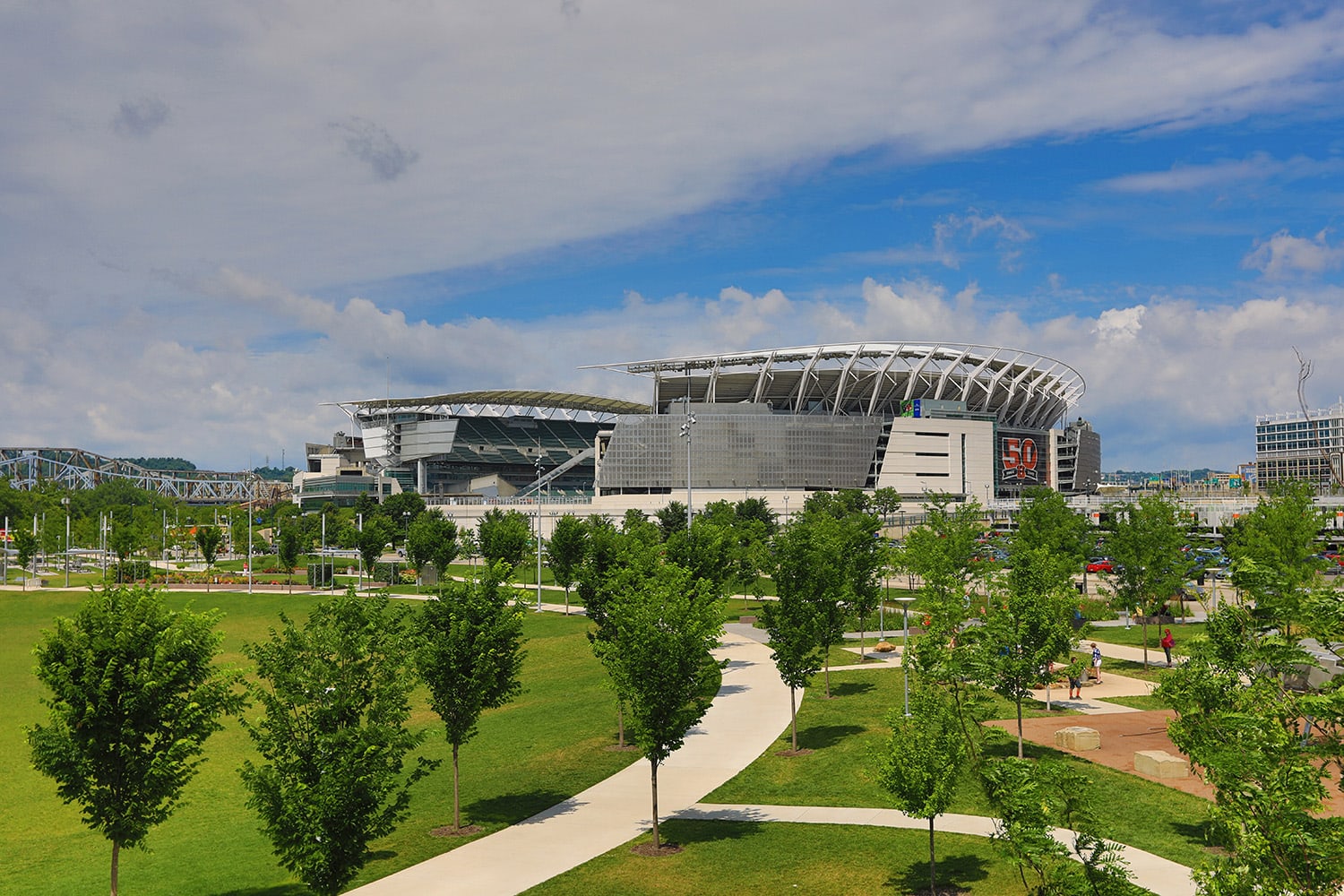 As the Landscape Coordinator at Paul Brown Stadium, home of the Cincinnati Bengals, I'm not sure if there is an average day.  It's maintaining and improving and eradicating problems in the landscape that happen all year.
We're in our 18th year of working with TruGreen at the stadium.  We've worked together since the stadium's inception.  TruGreen services the trees and shrubs around the stadium, practice field, and a small park just north of the field.  In total there are about 8,000 trees and shrubs at the stadium.

The types of trees include maples, oaks, birches, arborvitae, and crabapples and then all varieties of those.  The types of shrubs include Emerald Gaiety, Viburnum, Burning Bush, Oregon Grape, Junipers, and Barberries.  There are also Winter Creeper Euonymus, Yews, and Fothergilla.

A "hot topic" is the burning bushes.  There are two types, winged and compact.  The compact are in a battle with spider mites every year.

This is the best year I've seen the Burning Bushes. Their foliage is full and turning a brilliant red.  On occasion the White Oak trees have been off color and TruGreen has helped them survive and thrive.  They get very chlorotic but we have not lost one oak tree in my time there.  Every year it seems a few of them struggle but they keep growing.  We've added injections with fertilizer and acid as needed.

As far as some of the benefits that we've seen since using TruGreen, there have been certain outbreaks in Cincinnati area that have not effected the stadium  because of the service.  No spider mites or bag worms on the arborvitaes in 12 years.  Both have had big outbreaks in the Cincinnati area but not at the stadium.  That's definitely been a big plus.  TruGreen has managed to keep them under control.

In order to get the stadium grounds ready for each game day weekend, I try to make sure everything is detailed out.  I make sure the landscape areas are clean and blown off, with all trash gone.  It's really important to have an overall nice appearance for the fans.  We put up a lot of bicycle racks to keep people off the sidewalks and pathways.  The biggest issue is people cutting through landscape beds.

One of the best treatments for preseason care is the dormant oil treatment.  Also, I think pre-emergent on the beds is of absolute must.  I've also learned that winter pruning probably saves you the most labor.  I can prune the trees and shrubs in the winter time and need only to trim them back in their growing season.

In order to prepare the stadium grounds for winter we have a fall fertilization followed by the dormant oil treatment in the winter.  If a type of shrub or tree has trouble due to soil or zone issues, we find a better plant that is more compatible. 

When you look at the entirety and complexity of the grounds as a whole, there are drainage issues, irrigation issues, and an ever changing landscape as the scale and size of the landscape grows. It takes on a different look.  It's been eighteen years into this and I have watched the changes in plants as they have grown and matured.

The coaches, players, and cheerleaders don't normally ask me for tips on how to care for their own lawns, trees, and shrubs.  However, every now and then they've wanted someone to come over and look at them.

When I look at the differences between what I do for lawn care and tree and shrub maintenance at my home vs. what I do at the stadium, I tend to have a lot more variety at home.  I'm a plant junkie and tend to buy a lot of specimen plants.

What I love most about my job is that I love plants.  I enjoy the arrangements and the idea of arranging plants.  It's a hobby and a job for me that does not require a lot of effort because it comes naturally.

How I got into this line of work it wasn't really planned.  I picked it up and had an interest in it.  A manager in a small landscape company that I was talking to knew someone at the stadium who was looking at the bid for that stadium.  They asked me about possibly taking the position directly and that's how it all began.

Personally, I like football but tend to pursue more of my outdoor interests.  Camping and hiking take up more of my weekend time. 

This job offered two things thought that appealed to me.  One, I really enjoy working downtown, being in a green space and being in control of it.  Two, I like that it's the same place where you can be doing the same thing to improve and make it continually better.  A lot of people come down to enjoy the park-like setting.

I have built a good relationship with TruGreen and gotten to know the applicators well.  I enjoy a great relationship with Tony and the team.  It's been a good relationship over the years and they've all done really well.