It's not a question of if you need preemergent weed control; for homeowners like you who truly love their lawn, it's a matter of when is the best time to take action to prevent unsightly weeds from taking over your turfgrass. After all, it's hard to be proud of a lawn that is full of difficult-to-control weeds, such as dallisgrass, torpedograss, quackgrass, ground ivy, or dollarweed.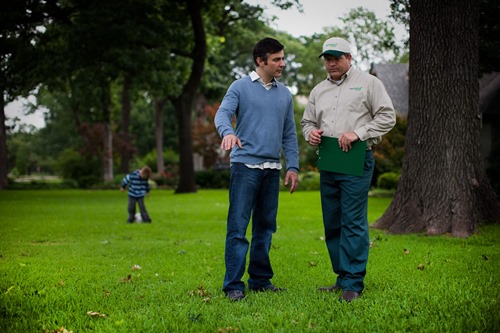 Ideally, you would stop difficult weeds before they even appear, but preemergent weed control is merely one part of lawn weed control. TruGreen® PhD-certified specialists know that it takes a mix of practices in order to help guarantee elimination of difficult-to-control weeds.
Dealing with difficult-to-control weeds
Weeds that TruGreen considers difficult-to-control tend to need ongoing visits or tailored strategies for successful eradication. These sorts of weeds can be either annual or perennial, and cause problems for different reasons.
Difficult-to-control perennial weeds: These weeds survive and reproduce even in adverse conditions. They may rely on bulbs, rhizomes, stolons, tubers, or thickened storage roots for survival between seasons and are hard to eradicate.
Difficult-to-control annual weeds: Annual weeds can't survive underground from year to year, but some emerge at times of the year when preemergent weed killers aren't active. Furthermore, they might also be resistant to postemergent treatments.
When to apply preemergent weed control
Preemergent weed control uses products that are designed to work before a plant germinates in early spring. For difficult annual weeds, multiple applications may be required—first at the start of the spring and then at carefully timed intervals as secondary flushes of germination come on as the seasons progress.
Preemergents can be used effectively as precursors to other weed control strategies that take over once germination is complete. A tailored solution can be used to target existing weeds through area or zone treatment with low volume spray equipment. This can control difficult weeds successfully when applied in the right mixture at the right intervals, usually before the weed in question has produced flowers or seed heads.
A tailored approach to lawn weed control
TruGreen offers a range of services to meet your lawn's individual needs. The TruMaintenance? Lawn Plan, for instance, includes preemergent weed control that targets a variety of annual and broadleaf weeds in a manner that is safe for families and pets. It also provides essential nutrients your lawn needs to grow thick and lush, leaving little room for competing weeds to grow.
Trust a TruGreen TruExpert? certified specialist to determine everything about your lawn, including which types of weeds pose a threat to your turfgrass. When you sign up for a TruGreen plan, your specialist will conduct a Healthy Lawn Analysis® and further tailor a plan that addresses your lawn's specific needs—including fertilization, preemergent, targeted weed control and other services. Your specialist's work doesn't stop there; for as long as your plan is in place, they will return to your property as many times as needed to ensure your satisfaction. That is what the Healthy Lawn Guarantee® is all about—ensuring you have a lawn you'll love.
To learn more about preemergent weed control and the other services TruGreen offers, visit them online at TruGreen.com or call 866.688.6722.