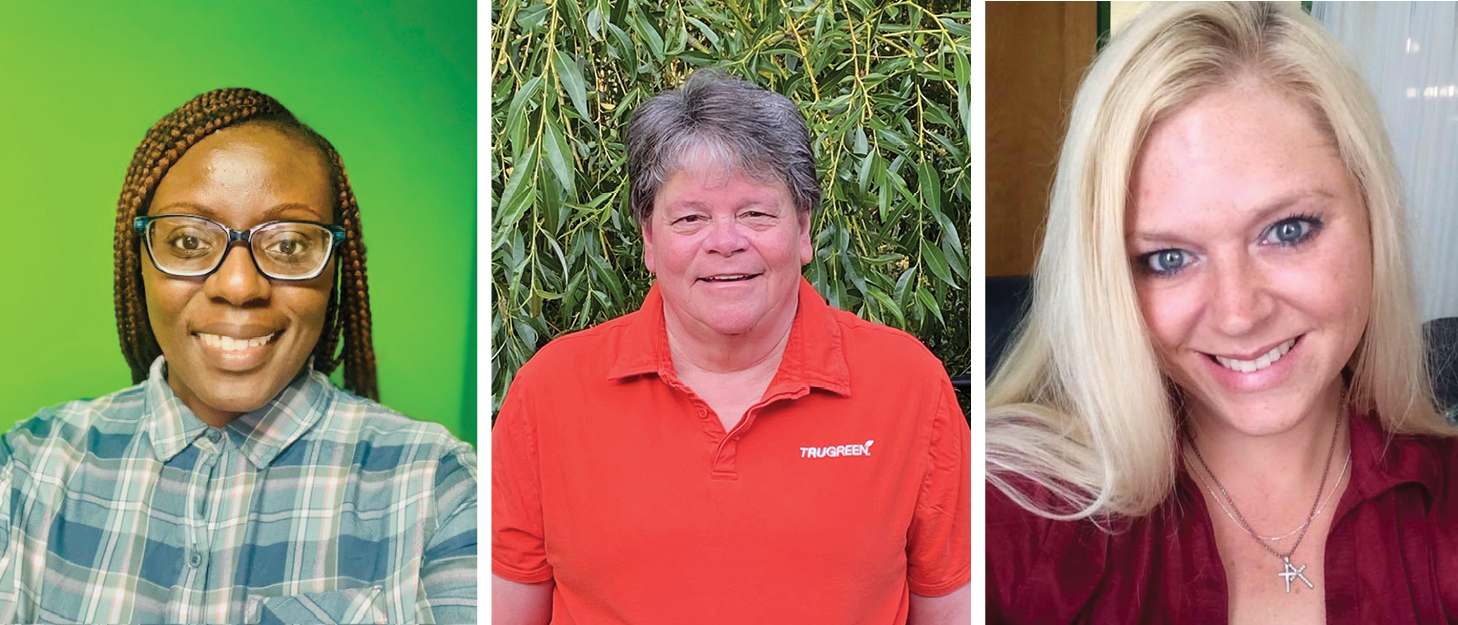 We are proud to announce that three employees have been awarded Green Industry Pros' 2023 Women in the Green Industry; Green Industry Pros is a nationally recognized magazine serving landscape professionals. The awardees include Cleopatra Pfunde, Doreen Rettenberger and Marianne Murray. The 2023 Women in the Green Industry Award recognizes outstanding female leaders whose accomplishments offer a roadmap for other women looking to shape and advance the green industry.
"Our service leaders are at the helm of driving TruGreen's mission to help customers live life outside," said Rebecca Schoepfer, Chief Human Resources Officer of TruGreen. "These individuals, many of whom are female green professionals, are committed to ensuring a quality experience for customers and a positive environment for associates. Congratulations to Cleopatra, Marianne and Doreen for this tremendous achievement; TruGreen is proud to have such driven and inspiring female leaders, and we're looking forward to their continued success!"
Green Industry Pros' editorial team chose winners based on several different factors, including leadership, initiatives, achievements and mentorship. In addition to the following awardees, three additional TruGreen associates were previously named in the award's inaugural year, further highlighting TruGreen's expertise and leadership in the green industry.
Cleopatra Pfunde,

Service Manager in Chelmsford, Massachusetts, is a self-driven, energetic leader who is committed to delivering tangible results. With a Ph.D. in crop science and several peer-reviewed papers within the industry, she has a distinct advantage in mentoring and managing associates through a deep wealth of industry knowledge.

Doreen Rettenberger,

Senior Service Manager

in Davenport, Iowa, is a strong champion and passionate mentor for women in the green industry. Today, she's part of TruGreen's SWAT Team — a group that travels to its branches to provide additional support and guidance with a focus on improving operations and customer and associate retention.

Marianne Murray,

Market General Manager in Baltimore, Maryland, has proven to be an indispensable and resilient leader over her 26-year tenure at TruGreen. To further her mission of creating the next generation of green industry leaders, she has created an entry-level-to-supervisor program at TruGreen, ensuring associates have the skills and resources to grow within the organization.
"At TruGreen, leadership from individuals such as Cleopatra, Doreen, and Marianne is fundamental to ensure our service teams are trusted lawn care partners for customers seeking to achieve their dream outdoor living space," said Bill Hausbeck, Senior Vice President of Production of TruGreen. "TruGreen is grateful to have these pros who are dedicated to industry excellence and eager to help grow our associate teams. Congratulations to all three women for being named a 2023 Women in Green Industry awardee."