Winter is coming, and your lawn will inevitably feel the effects. Follow this checklist to prepare your lawn for the harsh conditions of winter.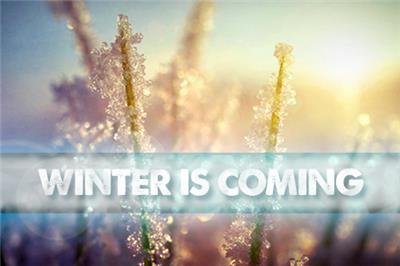 The first thing you need to understand about winter: your lawn will feel its effects no matter how hard you try. 

Winter's snow, ice storms and harsh winds can do permanent damage to your lawn, but you can help lessen some of winter's harshest effects on your yard and get it ready to thrive in spring by taking some steps to prepare your lawn for winter. 

Take these preventative steps to help your lawn survive the season's harsh elements.
Mow or Mold? You choose.
This tip is mainly for the northern states, where you may have to deal with extended wet weather and humidity: keep mowing your lawn so you keep the snow mold from living (on your lawn). Neglecting routine mowing could result in gray or pink spots. They'll be small at first, showing up on your grass blades, but will likely spread if you're not careful. The best way to play it safe is by ensuring your grass is properly mowed (learn more about proper mowing routines here).
Break the Wind
No, not the wind you're thinking of... THIS kind of wind.  While it might look beautiful, having your garden thrash to the wind is only suitable for a Harlem Shake video. Looking for a simple solution? Wind breaks! And no, we're not talking about the jacket, either.
Decide on what trees and shrubs you should use as wind breakers (and insulation) based on what trees work best in your area. Evergreen options include Colorado blue spruce, ponderosa pine and Oriental arborvitae, but you should always double check with a TruGreen specialist on any additional suggestions. Make sure the number of rows of plants and trees amount to 2-3, and always estimate the mature height of your trees before deciding how far apart you should plant them. 
We're not kidding about the insulation benefits: Texas A&M University reports "23 percent savings when comparing homes landscaped with windbreaks and homes without them." You know win breaks are serious business when a university writes about them! Placing wind breaks in the right area will result in a decreased risk of your garden contracting winter damage, mold, and you'll have a cheaper electric bill as well --who could say no to a thicker wallet?
Don't Leave the Leaves
Resorting to a city pickup for excess leaves would be the easy route, but they'll end up burning those leaves and the hazardous chemicals they contain will end up polluting our air past federal health standards for air quality. So here's the million-dollar question: how do you deal with excess leaves in a sustainable way?
Reuse them! Leaves provide much needed natural fertilization, but be careful because if you use too much you'll end up suffocating your grass. 
Through a process called "Grasscycling," you can gather up your leaves and throw them in a leaf shredder, and follow that by sprinkling the leaves all around your yard to give your lawn all of the nutrients and micronutrients it needs. Everyone wins and you'll help in keeping our sky blue!
Time for a Trim
Just like your hair, trees and shrubs need a cut as the winter weather comes. Why? More so than any other season, trees are vulnerable to the weather and pests during December. Wide temperature fluctuation and extremely low temperatures are the biggest culprits for tree stress, meaning your tree is more sensitive to things like frost cracks, sunscald, and winter burn. And while it's dealing with all of those, pests and critters plan on making your tree their stomping ground.
The winter pounding will seem like it never ends, but proper fertilization and grooming will help keep your tree healthy well into spring. TruGreen can also help with tree and shrub services catered to meet your tree's every need, whether it's overwintering insect control or targeted trunk injections.
Bundle Up
You've probably got your thick clothes ready to rumble for the next polar vortex, but that's not the kind of bundling we're talking about. This year TruGreen wants to make your winter prep a little easier: ice melt delivery (available only in select areas, call 1-888-722-2922 for information) includes a 50 lb. bucket of ice melt, a scoop and an additional 50 lb bag of ice melt for refills (which you'll most certainly go through with all the snow coming in this year). 
You'll spend less time in the snow because we'll deliver it right to your door. We know how much of a hassle driving is during the cold months and we want to make your property safer by clearing snow and ice effectively. 
What are some other ways you plan to prep your lawn for the winter? Share your ideas on our Facebook page with fellow TruGreen customers!