Looking to spice up the yard this fall season? We've got some autumn-worthy ideas!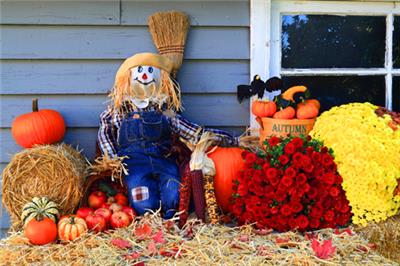 Fall is upon us! What better way to celebrate than by sprucing up that patio and adding some color to that yard? Unfortunately, those inflatable turkeys may not be the best for your grass.
While everyone loves to bring a warm, welcoming feel to their yard during the holidays, decorations like blow-up inflatables and heavy displays could damage your lawn. Additionally, it's important to make sure you have a pathway throughout the season to avoid foot traffic on your lawn. We've come up with some easy, harmless DIY projects that'll do just the trick!
Greet your Guests and Give Thanks
A wooden pallet is sure to bring a pop of color to the front porch! Welcome your neighbors with these fall hues. Use this for more than the fall season and decorate the opposite side with another color of your choice—we recommend white or red for the winter. This multi-use pallet would look great with these DIY Frosty Banners around the holidays!
Create a Garland for the Front Door
Wishing the entry to your home felt a little more like, well, home? A fall garland is the perfect touch! Grab those leftover Halloween pumpkins and add them into the mix. Complete the look with a colorful doormat and some rustic flower pots. Better yet, this garland is easy to make and uses inexpensive material, like burlap and thumb tacks. 
Forget Boring Trees
Wish there was a way to bring life to the trees in the front yard? We've got the solution! Glowing DIY leaf lanterns will have the neighbor's oo-ing and aah-ing in no time. What's even better is they're easy to make and completely harmless to the branches. 
As festive as Christmas lights look wrapped around the tree, they can be hazardous to pets. Hang these lanterns high enough so the neighborhood dog won't mistake your decor for a treat. Additionally, make sure to set these on a timer and let the rest take care of itself! It'll reduce the foot traffic on your lawn to turn the lanterns on and off. 
Harvest Stakes
Now that the front porch is cozy and the trees are lit, it's time to bring some life into that yard. The kids will love scarecrows in the yard and they won't break the bank. Avoid the blow-up turkeys and stick with safe options such as harvest yard stakes.
As tempting as they are, inflatables will suffocate your grass, leaving it dead and brown. Stakes are removable and won't leave lasting, visible damage to your lawn. Another option is to place stakes like these in a path-like fashion to guide guests away from the grass. 
Put your Old Grass to Use
It's no secret we love planters. Looking for a creative way to incorporate grass in your display? A bright fall planter will not only bring a touch of autumn to your porch, it will look awesome next to the pumpkin garland wrapped around your front door. 
Purple fountain grass is a burgundy-colored foliage that can be used in the spring and the fall. It highlights the surrounding flowers and adds an unexpected pop of color! Head to your local Walmart or Lowe's and grab a quart for just under $5. Next, add tiny pumpkins next to your planter and you've got the full set-up.
'Tis the Season for Joy
peaking of the fall, that brings us into the holidays! Some of us are crafty, others, not so much. We love festive yard signs; they're tasteful and allow you to stay away from the inflatable Santa that'll smother your turf. 
Though yard decorations are a staple of the holidays, it's important to keep your lawn in tip-top shape and free of damage. Place the sign in the middle of the lawn or in front of your lantern-lit tree! Additionally, be sure to avoid leaving signs such as this one on your grass for longer than two weeks.
As you spruce up your front yard this holiday season, keep in mind the health of your lawn. Happy decorating!