Dinner and a movie is always a great idea for date night. Why not mix it up this Valentine's Day and make a reservation with your backyard? Here's a step-by-step guide to creating an outdoor theater for a romantic evening under the stars.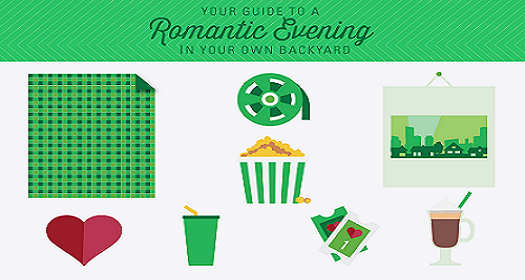 Create a DIY Screen
Not many have a retractable projector screen on hand, so it's a good thing a plain white sheet works just as well. Attach the sheet to an open wall or let it hang from the top of your patio.
TIP: Be sure to identify the nearest power outlet, as you'll need to plug in your projector. Place the sheet in a location that works with the trajectory of the projector.
Projector & Speakers
Ask your friends for a projector you can borrow or rent one from a local office supply store. It's easy to connect the device to your DVD player, and it'll give you a chance to put those old computer speakers to good use. Once you have all the devices connected, you can play with adjusting the screen size by moving the projector closer or further away from your outdoor screen.
TIP: Have an extension cord handy just in case.  It's also good to mindful of nearby street and house lights when setting the scene for your outdoor cinema; no one likes a glare.
Staying Warm
If the forecast indicates a chilly Valentine's Day evening, be sure to dress the part. Grab some warm blankets and start a fire in your fire pit.  Cuddling up with your Valentine and drinking hot cocoa while you watch the movie will also help you keep warm. 
TIP: Give this delicious hot cocoa recipe a try. Why not give it a trial run to ensure it's a perfect fit for your well-planned evening?
Snacks
No movie is complete without snacks. Pop some popcorn and stock up on your Valentine's favorite treats to munch on while you watch the movie.  Who needs dinner when you have candy?
TIP: Impress your valentine by going above-and-beyond in the popcorn department. Give one of these 50 different Food Network recipes a try.
Romantic- Comedy Movie Recommendations
Sleepless in Seattle
Say Anything
You've Got Mail
Notting Hill
When Harry Met Sally
Crazy Stupid Love
The Princess Bride
For more romantic-comedy ideas, check out this list from IMDB.
Grab the supplies, grab your valentine and live life outside, no matter the season. Best part about this plan? We're pretty sure you won't have a problem getting the reservation time you desire.