Want to create a festive front porch without breaking the bank? Check out tips and a tutorial from guest blogger Making Lemonade!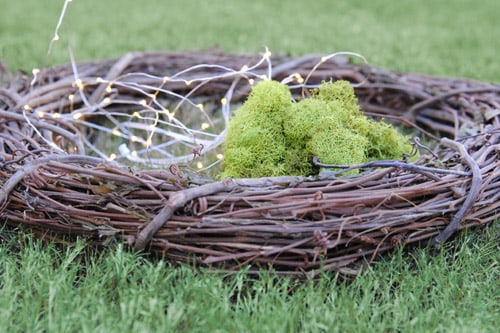 Hello, I'm Carrie Higgins from the blog Making Lemonade!
I'm excited to partner with TruGreen this holiday season to share a DIY wreath tutorial and outdoor decorating tips. This is our first holiday season in our new home and we wanted to accent our lawn while adding more curb appeal during this season of light.
Creating a holiday look for a lawn you love isn't so much about how it looks, but how it makes you feel. Decking the halls with a plethora of warm lights, cozy touches, and lots of greenery is a surefire formula for outdoor decor that fills you with wonder and happiness. With a front porch and entryway this inviting, don't be surprised if guests stop and stay awhile!
You can't go wrong with a classic look loaded with green garlands and white lights, which will always be in style and complement your healthy lawn. To keep it fresh, add in a few trendier pieces such as a buffalo check throw blanket and olive buckets filled with greenery. Finish it off with a whimsical fairy light wreath that makes your front door glow.
The result is an on-trend yet classic holiday theme that fits with almost any home exterior. It'll make you want to curl up with a cup of cocoa and watch for Santa's sleigh!

The good news is you can easily recreate this look and make it your own with a few tips and tricks. The best news is that this decor plan will work for any home in the U.S., whether you're expecting a white Christmas or not. Fairy lights are one of my favorite materials to craft with around the holidays, thanks to their inexpensive price and heartwarming glow. Read below for tips on creating the fairy light wreath and a festive front porch!
Fairy Light Wreath Tutorial
Materials:
Grapevine wreath
Battery-operated fairy lights
Green floral wire
Wire cutters
3-4 bags of Preserved Reindeer Moss
Burlap bow
Glue gun and glue sticks
Command hooks or wreath hanger
Ribbon for hanging loop (optional)

Step 1
Protect your workspace, or work outside near an outlet, because the moss and hot glue can be messy. Plug in glue gun and heat up for approximately 2 minutes or until glue is hot and ready to use.

Step 2
Begin by applying hot glue to a small section of the wreath and adding on a piece of the reindeer moss. Continue in this manner, gluing and placing the moss almost as you would a puzzle -- fit the pieces together so they combine into one. Start with the large pieces, and glue the smaller pieces in the bare areas as you go. Do this to the entire front and sides of the wreath, leaving the back of the wreath bare so it lies flat on the door when hung.

Step 3
Once the moss is applied around the wreath, place batteries in the battery box of the fairy lights, and use green floral wire to attach it to the back of the wreath. Arrange the box so that the on/off switch is easy to reach. Turn them on as you work so you can see how they will look when lit.

Step 4
Criss-cross the fairy lights around the wreath so they sparkle from several directions. Secure the end of the light string by tucking it into the wreath or with the floral wire if needed.

Step 5
If there is a large closed loop of branch at the back of the wreath, use that as the hanger. If not, create your own hanger by using a piece of ribbon and tying it in a loop to the back of the wreath. Once that is ready, orient the wreath on your workspace with moss side up and the hanger at the top so you can see the best spot to place the bow. Use the floral wire to attach the bow to the desired spot.

Step 6
Using command hooks or a wreath hanger, hang the wreath on your front door. Turn the fairy lights on at dusk for a gorgeous and ethereal look!

How to create a festive front porch and entryway
While the fairy light wreath looks great on its own, adding in accessories to your porch can help to complement the green of the moss and the green on your lawn.
First, add some height with a garland of mixed greenery. You can use an artificial garland or a pre-made fresh version, filled with pine and cedar branches.
I mounted cup hooks to attach the garland to the top of the pillars and swagged it across the opening of the entryway. If you live in a windy area, you can use green floral wire to attach the garland to the cup hooks.
Secure any loose and droopy pieces with green floral wire for a neater look, and use clear command hooks with green floral wire looped around the hook to attach the ends of the garland to the pillars so they stay put.
Next, add some topiaries such as pre-lit trees on either side of the front door. They frame the space and add layers of light to welcome you home. To stretch your decorating dollar, consider placing boxwood topiaries on top of existing planters as a way to use summer planters all year long.
Of course, you can also do both as I did. The greener the better, I say! It's all about adding various textures and heights to draw the eye and add interest.
You'll also want to add another layer at ground level. For this, I used olive buckets and circled store-bought topiaries around the inside of the olive buckets until they looked full. Then, I added in greenery picks from the craft store. I chose magnolia and olive picks, which add just the right touch.
Lanterns come in many styles and are versatile in decorating -- choose the style that looks best with your home. I used black metal lanterns for a traditional yet modern look. For an easy way to add warmth to your outdoor decor, adorn the area with lanterns filled with battery-operated candles that you can program to go on at dusk. For a different feel, you can also fill the lanterns with shiny, round ornaments instead of the candles. Wind some fairy lights in there and they'll glow beautifully, showing off the ornaments.
The key to decorating success is to try a few different arrangements and see which ones you like best! Don't be afraid to change things out if they're not working. Mix it up with patterns, textures, and coordinating colors. I tried to keep my color scheme to red, green, and black and let the lights add a warm glow.
Decorating for the holidays and increasing your home's curb appeal doesn't need to take a lot of time or money. Since our lawn frames our home and has a starring role in our curb appeal, the outdoor decor is like icing on the cake. It accents the lawn and complements the look perfectly. The color green always looks festive this time of year, whether it's on your lawn, swagged across your entryway, or hopefully both!