One of the things that gets us through the cold snaps of weatherand that we, as homeowners, look forward to in springis the thought of how beautiful our front yard will look. Part of planning for that wonderful time is, of course, looking over some front yard landscaping ideas that will make your home more attractive and your lawn much healthier following the damaging cold season. When you think of front yard landscape ideas, what comes to mind?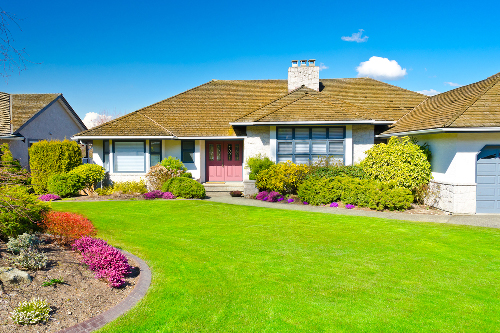 Front yard landscaping ideas for spring: color, color everywhere
No doubt about it, springtime is synonymous with color, pretty flowers and lush lawns. Regardless of where your home is located or how your front yard looks now, springtime is a time for beautiful landscapes—so be sure to plan a landscape design that complements your home and pleases you. Here are some suggestions to incorporate into your plans:
Bulbous plants. A variety of flowering bulbs get sprung in spring, so planting hyacinths, tulips and daffodils are good choices for your front yard. The best part? Available in a variety of colors, flowering bulbs can be incorporated wherever your yard needs the color.
Flowering shrubs. Shrubs are great for front yard landscaping and give your front yard a nice level of depth.
Flowering trees. A flowering tree can easily become the centerpiece to your front yard. Bonus? Depending on where you plant it and how long it takes to grow, a flowering tree can give your home appeal, privacy, shade, and more.
Tips for front yard landscaping during springtime
Here are some tips to help you get started:
Do your research before jumping in. Be sure to research your area's climate and zone designation to learn more about which plants are most suitable for your area. Without knowing which plants and flowers will best thrive in the spring, you may find yourself disappointed when your hard work doesn't pay off.
Make a plan before you dig up your front yard. Once you know what you're planting, be sure to map where everything will go. Do you really want a bed of bulbs where you intended to plant a tree ... or vice versa? Make a map of your yard and design your landscaping accordingly.
Don't forget about your grass. Don't forget that your grass has needs, too, and plays a big part in your overall landscaping appeal. Is your grass lush, green and healthy? Has it suffered from cold-weather damage? Consider including a lawn maintenance schedule for regular watering and mowing, and lawn treatment for any damaged areas, in your overall landscaping plan. 
Let TruGreen® take care of your lawn
The PhD certified specialists at TruGreen® understand the importance of a healthy lawn for curb appeal, especially as springtime approaches. TruGreen's Healthy Lawn Analysis® and their Tree & Shrub Evaluation® are great ways to find out more about your lawn, its present health, and what you can do to make it thrive to its fullest potential. Leave the need for fertilizing, aerating, weed and lawn damaging insect control up to TruGreen. With science-based solutions that are tailored to meet the specific needs of your yard, TruGreen will help make sure that your front yard landscaping ideas go off without a hitch.
Experience the TruGreen difference today