Before you try to DIY your lawn care this spring, make sure you know about the most common yard fails that homeowners make. Check out the mistakes and what you can do to correct them here: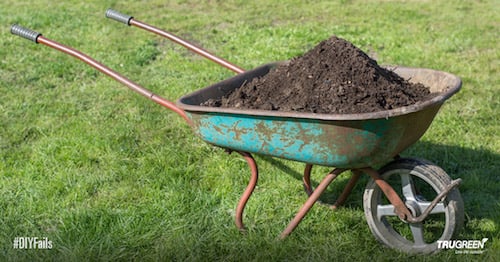 DIY fails happen to the best of us. Especially when it comes to lawn care.

If you're planning on taking care of your own yard, be careful to avoid a few common mistakes that could jeopardize the look and health of your landscape.
DIY Fail: Rolling your lawn
DIY-ers might be tempted to smooth out bumpy lawns with a roller to get their spring yard started. But all that pushing isn't good for your lawn's base. Compacted soil can stunt the growth of grass and becomes too tight to hold water, leading to runoff problems. 
→ Instead: get your lawn professionally aerated to open up the soil.
DIY Fail: Over Watering
It's so nice to see your lawn again, you want to shower it with love (and water). But resist the urge! In addition to being wasteful and running up your water bill, over watering can drown your emerging lawn, especially when it's still raining outside.
→ Instead: water three times a week for 40 minutes, less frequently if you've had rain.
DIY Fail: Over Fertilizing
Your lawn builds a fertilizer tolerance, which means the more you dump on it, the more it needs to be effective. There's no need to overdo it! In fact, you probably only need half as much as you think (or you've been told) you do.
→ Instead: call a TruGreen expert to plan a fertilization schedule.
DIY Fail: Bagging Your Clippings
Leaves and trimmings are like candy for your lawn. Well, maybe not candy - more like quinoa, since clippings have nutrients that are extremely good for soil. Tasty nonetheless! Don't deprive your soil of essential nitrogen by throwing clippings away.
→ Instead: Evenly mulch your clippings back into the soil.
DIY Fail: Mowing Too Short
Just a little off the top, and we mean it! When the blades go too low, they cut off the crown of the crass, stunting growth. As grass tries to compensate, it gets stressed and is prone to outbreaks of weeds and disease.
→ Instead: Maintain a minimum grass length of 3.5-inches and watch your grass flourish.
DIY Fail: Seeding Too Soon
Winter faded into spring, and unfortunately patches of your lawn look faded, too. If grass didn't return as nicely as you'd hoped, you may be tempted to plant spring seeds. That's not likely to do much good, since seeds are actually most responsive in the fall.
→ Instead: Have a pro treat bare spots in your lawn to prevent crabgrass growth while maintaining the health of the grass over the summer.