With temperatures cooling and trees starting to show their vibrant autumn colors, this time of year is perfect to fall in love with your yard all over again. Check out our patio decorating ideas to help make your backyard the coziest place to spend time this fall.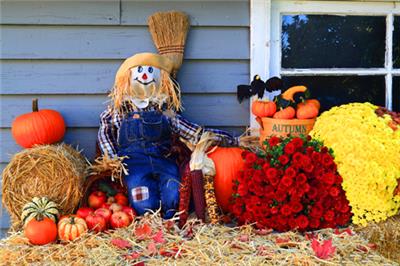 Welcome Guests With Warm Hues
Greet your visitors with a fall floral door arrangement featuring all of the beautiful colors of fall. Take your pick at a wide variety of fall perennials, although we recommend sunflowers, daisies, and lilies. For an in-depth look on how to make crowd-pleasing floral arrangement, check out our Pinterest page.
Create A Decorative Seating Area
Forget lawn chairs and benches! Bales of hay are a great way to bring friends and family together for a fall get-together outside. You can pick up a bale at most farms for less than $15. Set-up is easy: cover the bales with a blanket, add some orange and yellow pillows and voila! You now have the most envied backyard on the block. 
Make Decorating A Contest
Looking for a fun way to include your kids in on the fall patio decorating? Send them out on a scavenger hunt for the best fall leaf they can find in your backyard. Once your little hunters and gatherers return with their prize, take each leaf and dip it in wax, which helps preserves the leaves for this season and the next. Monofilament works best to keep your leaves from falling a second time, but string works just a great. Find all the instructions for this project here.
Create Your Own Mood Lighting
This is mood lighting at its finest. Create a warm feeling on your patio by placing fall themed candles into mason jars; something pumpkin spiced should do the trick. You can find mason jars at your local grocery for less than a dollar. Place them throughout the backyard and let your little lights shine. 
Celebrate The Fall Harvest
Autumn's flowers and vegetables can help add seasonal pops of color to your patio. Pile up gourds, squash, pumpkins, mums and other veggies and flowers to make an autumnal spread that highlights the season's bounty. Throw a bow around pumpkins, squash and gourds to add a pretty touch.
Keep Your Guests Warm And Safe
A basket of plaid blankets plus a fire pit allows you to enjoy the cool, crisp autumn weather long into the night. Before lighting an outdoor fire, make sure to check the weather forecast and avoid windy conditions that can blow embers.
We wish you many cozy nights this fall with friends and family!