When it comes to comprehensive and unique lawn maintenance plans, TruGreen® is a perfect option for homeowners who love their lawn but don't necessarily have the time and expertise to really take care of it. With a detailed list of services, and satisfaction always guaranteed with the Healthy Lawn Guarantee, there's no doubt that the TruComplete℠ Lawn Plan is one of the most versatile lawn service plans in the industry. But what is the TruComplete℠ Lawn Plan, and why is it so popular among TruGreen® customers?
What is included in the TruComplete Lawn Plan?
The TruComplete Lawn Plan includes detailed lawn maintenance services that are performed at key agronomic stages throughout the year to yield optimal lawn results. What makes this plan so unique is the combination of essential nutrients, extensive lawn protection and lawn aeration, a combination designed to promote the healthiest lawn possible.
Lawn aeration loosens compacted soil and increases the flow of air, water and nutrients deeper into the soil to reach the root level, contributing to a thicker, healthier lawn.
TruGreen's slow-release fertilizer stimulates grass growth, promoting lush, deeper-color turf over the course of weeks.
Targeted weed control keeps annual and broadleaf weeds from suffocating your healthy turf all year long.
Targeted insect control effectively treats and protects your lawn from lawn damaging insects.*
Soil amendment is included to maintain a rich, healthy soil base.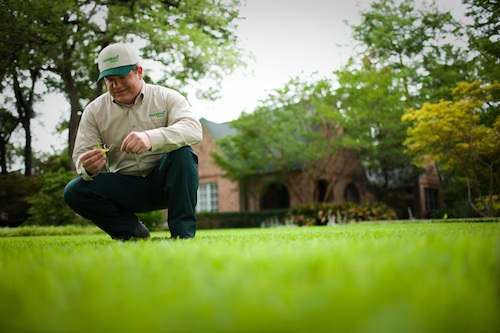 Comprehensive lawn care in just a few steps
With the TruComplete Lawn Plan, you can say goodbye to unhealthy lawn traits and unattractive curb appeal. What's more, the process to get things started is so simple you won't want to wait.
Call TruGreen at 866.688.6722 to speak with a lawn care expert. TruGreen experts can answer all your questions and schedule your Healthy Lawn Analysis®. You can also visit www.TruGreen.com to explore various options for your plan and to get a free quote for your lawn services.
During your initial service visit, a TruExpert certified specialist will conduct a Healthy Lawn Analysis, which will give you a comprehensive overview of your lawn's condition, as well as what factors are contributing to the overall health of your lawn.
From there, services are tailored to meet the specific needs of your lawn and service visits are scheduled for every four to six weeks.
Each lawn care plan is backed by the TruGreen Healthy Lawn Guarantee, which says that a specialist will come to your home as many times as necessary while your plan is in place to ensure your satisfaction.
Experience the TruGreen difference today
Visit our learning center for videos, blogs and infographics that feature expert lawn care tips, and to learn more about what to expect from your TruGreen services. You can also connect with us on Facebook, Twitter, Pinterest and Google+. TruGreen's customer support can always be reached at 1-800-TRUGREEN or online at Trugreen.com.