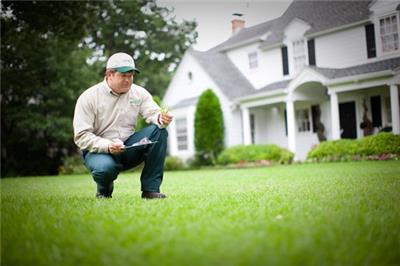 Broadleaf Weed Control
on May 31, 2013 by TruGreen
Weeds are opportunists. They're always looking for an opening. If given a bare spot or an area where the grass is thin or weak, they'll try to take over. This is especially true of broadleaf weeds, which, once established, can quickly spread and damage the appearance of your lawn. Weed control, specifically broadleaf weed control, can be an important component of your lawn care program.
Given the variety of weeds that can gain a foothold in your lawn, you may be wondering about the best methods of broadleaf weed control. The best and most obvious way to keep weeds from becoming a problem in your lawn is to maintain healthy, green turfgrass. A lawn of lush grass makes it much tougher for weeds to even get established in the first place. But weeds are always ready to take advantage of any opportunity to start growing, and even the most pristine lawns require weed control.
two types of broadleaf weeds
Weed identification is a crucial step in successful weed control. For simplicity's sake, we can divide broadleaf weeds into two categories, rosette weeds and creeping weeds. Each category is characterized by its distinctive growth pattern. Plants that grow from the center of the plant are called rosette weeds, while weeds that sprawl along the surface of the ground are known as creeping weeds.
Common rosette weeds include dandelions, plantains and docks. Their leaves radiate from one central point on a very short stem that barely rises above soil level, making them extremely difficult to pull cleanly from the ground.
Common creeping weeds include clover, chickweed and lespedeza. These creepers can create large, unsightly patches in your lawn, especially if several of the weed plants overlap each other. As the stems radiate from a central point and hug the ground, they can establish roots at multiple points.
controlling broadleaf weeds
Now that you know how to identify the weeds, let's move on to the bigger challenge—weed control, specifically the best methods of broadleaf weed control.
The application of a preemergent can control many broadleaf weeds. However, several species of annual weeds are difficult to control because they germinate and emerge at times of the year when preemergent is not active. They include annual broadleaf weeds such as prostrate knotweed, creeping oxalis, parsley, speedwell and lespedeza. Difficult annual weeds may require more than one application of a preemergent. Once annual weeds begin to flower or produce seedheads, they become more difficult to control.
Sometimes the best way to tame these tough-to-control weeds is to apply specialized preemergent mixtures directly onto the weeds using a hand can, backpack or other low-volume sprayer. Select broadleaf weed killers are also available for many difficult perennial weeds. However, repeated, timely applications over several growing seasons may be necessary to deplete underground food reserves and affect weed control.
It's apparent that different weeds at varying stages of their development require different weed control strategies and the application of specific broadleaf weed killers. Unless one of your goals in life is to become a weed expert, determining the best methods of broadleaf weed control is better left up to a TruGreen® PhD-certified specialist, who can recommend a science-based plan that will help achieve a green, weed-free lawn.
With all TruGreen lawn plans, a TruExpertSM certified specialist will provide a Healthy Lawn Analysis®, the first step in further tailoring a plan to help your lawn reach its fullest potential. And you will have the peace of mind knowing that your lawn will also be protected by TruGreen's Healthy Lawn Guarantee®.
To learn more about weed control for lawns, visit TruGreen.com or call 866.688.6722 today.