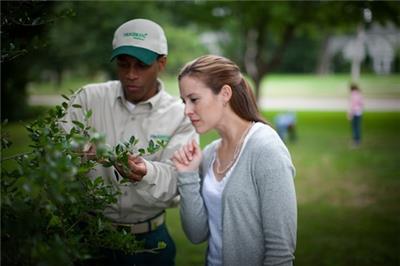 everyday relationship with TruGreen
on March 7, 2014 by TruGreen
Congratulations! You've made the right choice by selecting TruGreen for all of your lawn care needs. Now that the hard part's over, what can you expect from your everyday relationship with TruGreen? It's not just about your grass, or about making sure that you regularly receive the best possible service for all of your lawn care needs. With TruGreen, you can rest easy knowing it's so much more.
TruGreen services: getting started
When the experts at TruGreen partner with you to achieve a lawn you'll love, they strive to make the process as simple as possible for you, while helping you understand how you can get the most out of your lawn care services. That is also why a PhD certified specialist is available to answer all of your lawn care questions—either in person or by phone. Here are some things to keep in mind to help get the most out of your lawn care services:
Set up your online account. Make sure you visit myaccount.trugreen.com and register for online access to your account. The online portal gives you access to your service schedule, payment options, account information, and other management tools.
Choose a payment plan. TruGreen offers convenient ways to pay for your services:
Pay-As-You-Go gives you the freedom to pay after each scheduled visit is fulfilled. Within 3-5 days after your services are completed, you'll receive an invoice with your summary of services. You will always be billed after your service visit is completed.
PrePay and Save. By paying for a full year of service up front, you can save 10% on the total cost of your plan.
EasyPay allows you sign up to pay automatically with your debit or credit card after each service. There are no paper bills or invoices to file, and no payment reminders needed. It's the easiest way to ensure your payments are made after each scheduled visit.
Experience your first scheduled visit. During this initial visit, your TruExpert PhD certified specialist gets to know your lawn—and you. He will answer any questions you may have, and then tailor a plan for your lawn based on the results of your Healthy Lawn Analysis. Visits are then scheduled for about every four to six weeks. Your specialist would love to meet and learn about you, too; but if you can't be there, it's okay. After each scheduled visit, a summary of services is left at your door.
Follow regular maintenance tips. You, too, play a part in helping TruGreen ensure that you achieve a lawn you'll love. It is recommended that you keep up with regular lawn maintenance, such as mowing and watering, to help keep your grass growing healthy and bring your lawn to its fullest potential. And of course, your TruGreen specialists are always available to answer any questions you have about regular lawn maintenance and best practices to follow.
experience the TruGreen difference today
When it comes to achieving a lawn you can be proud of, you're looking for more than just someone to check that your grass is green and your shrubs are alive, right? Well, when you partner with TruGreen, you're partnering with true lawn experts who use science-based solutions that are aimed to help your lawn reach its fullest potential.
The best part is, TruGreen cares about your lawn as much as you do, which is why their services are backed with the Healthy Lawn Guarantee®. This means you can rest assured that a specialist will come to your home as many times as necessary in between scheduled visits to ensure your satisfaction. You can always get more information about TruGreen's service plans at www.TruGreen.com.
TruGreen strives to provide you with the knowledge you need to achieve a lawn you'll love, all season long. For expert lawn care tips, seasonal lawn care tips, or to learn more about what to expect from your TruGreen services, visit TruGreen's blog or YouTube channel for an archive of helpful information. You can also connect with us on Facebook, Twitter, Pinterest and Google+.