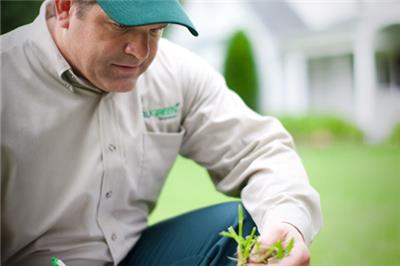 Lawn Services
on April 27, 2013 by TruGreen
You want to have a lawn you'll love, but you don't know where to begin. Keeping up with lawn services year round is the ideal place to start. After all, the root of dull, dry and unhealthy turf is an absence of tender loving care. Here are some of the services that can contribute to a healthier, greener lawn:
Fertilization. A healthy lawn needs the right nutrients in order to thrive. Without proper fertilization, your lawn suffers, looking dull and sick.
Weed control. Even if weeds look pretty, these invasive plants suffocate your lawn making it more difficult for your grass to grow.
Insect control. With everything from white grub to chinch bugs, it's important to keep an eye out for dead turf and other signs of lawn damaging insects.
Lawn aeration. Aerating your turf gives it the opportunity to breathe by relieving soil compaction, and gives roots better access to air, water and nutrients.
Overseeding. This process not only can enhance your lawn's ability to fight insects and diseases, it's also designed to thicken and improve the lawn's overall appearance.
TruGreen: just the facts
TruGreen's lawn service is one of the most comprehensive in the industry. That's because they have science-based solutions for everything they do.
TruExpertSM PhD-certified specialists are trained to understand the intricacies of your region and climate as they relate to your lawn.
The specialists perform a Healthy Lawn Analysis® to evaluate your lawn because they understand that each lawn is unique and therefore demands individual solutions.
TruGreen tailors science-based solutions to meet your lawn's unique needs throughout every season of the year.
Their lawn services are backed by the TruGreen® Healthy Lawn Guarantee®, which means that, for as long as your plan is in place, they will come to your home as many times as necessary to ensure your satisfaction.
TruGreen lawn services: what can you expect?
A range of science-based lawn plans designed to give your lawn the right help at the right time. Once you choose a plan, a PhD-certified specialist performs a Healthy Lawn Analysis® to get an in-depth look into your lawn—and then provides recommendations for treatment plans and scheduling.
TruGreen offers fertilization services that target key points in every season to stimulate and maintain the growth of your lawn.
TruGreen offers both insect and weed control that fights against a variety of lawn damaging insects and weeds year-round.
Specialized services like aeration and sulphur soil amendment are offered for optimal soil health and lawn growth.
Again, the root of dull, dry and unhealthy turf is an absence of tender loving care. Don't wait any longer to make your lawn a lawn you love. Trust no one but the best lawn service experts at TruGreen to take care of your lawn. To learn more about their lawn services call today at 866.688.6722 or visit the website at TruGreen.com.