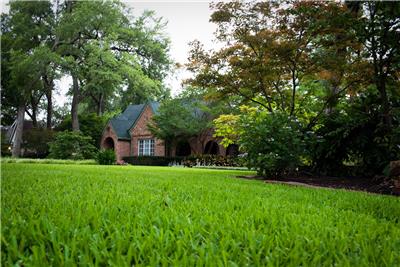 TruGreen
on April 22, 2013 by TruGreen
Ah, the sight and scents of a lush, healthy, green lawn. Is there anything better? Not likely! But we don't always have the knowledge and expertise to make it look and feel perfect, no matter how hard we try.
Homeowners often consider, and wisely so, lawn maintenance services of some sort to help achieve that lush green lawn they will love. Yet every lawn is unique and has specific needs that must be met for it to thrive. Thankfully the folks at TruGreen® know that, which is why they offer tailored lawn care plans that will meet your lawn's specific needs
what does your lawn need?
The PhD certified specialists at TruGreen have identified some basic needs that every lawn needs to thrive, such as:
Nutrients. Anything living needs the right amount of nutrients to survive, and your lawn is no different. It's not enough to water it and hope for the best. That lush, green color comes from healthy, nutrient-rich soil.
Weed control. Nothing chokes the air out of your grass more than weeds. Your weed problem can range from pesky to downright problematic, and ignoring it and hoping it will go away simply won't do.
Insect control. One problem area for many homeowners who wish their lawn was just a bit more responsive? Lawn damaging insects. They eat the grass blades, break up the soil and wreak havoc on what could be—and should be— your beautiful lawn.
Maintenance. For your lawn to be healthy, it must be tended to with more than just water and food. Things like climate changes and weather variations— such as long hot summers causing drought or long winters causing aggressive snow and ice—make the overall health of your lawn harder to maintain. The experts at TruGreen know how your lawn can be affected by these conditions, and can recommend a year-round plan to ensure optimal lawn health.
Unfortunately, there is a fine line between lawn care that just gets the job done and on-going lawn maintenance services that result in exceptionally healthy, green lawns. Plus, there is one very important question to consider: Are you an expert? Only an expert will know exactly how to spot problems, identify what's causing them, and determine how to address them properly and efficiently.
TruGreen plans
So how does TruGreen approach achieving a healthy, green lawn? Simply put, TruGreen understands that your lawn is unique and has specific needs that must be met for it to thrive. This is why they offer a range of science-based lawn plans designed to give your lawn the right help at the right time. Every TruGreen lawn plan begins with a Healthy Lawn Analysis®, performed by a PhD certified specialist, who then creates a tailored plan that will give your lawn exactly what it needs to reach its full potential. The best part is that the lawn care experts at TruGreen are committed to your lawn year-round, not just for the season.
TruMaintenance® Lawn Plan – Covers the essentials to promote a healthy, weed-free lawn. Slow-release fertilizer stimulates the growth, density and deep-green color of your turf, while pre-emergent and targeted weed control delivers year-round protection from a variety of weeds.
TruHealth® Lawn Plan – Provides protection, essential nutrients and balanced soil to promote a lush, green, healthy lawn. In addition to the slow-release fertilizer technique mentioned above, this plan also includes soil amendment, built-in to maintain a rich, healthy soil base and maximize the effectiveness of your plan. These services are performed at key agronomic stages throughout the year to yield more than satisfactory lawn results.
TruComplete® Lawn Plan – Provides essential nutrients, protection, organic soil amendments and lawn aeration to promote the greenest, healthiest lawn possible. In addition to the slow release fertilizer technique, this plan also includes Revive organic soil amendments to improve root-zone moisture and soil drainage, and aeration is built in to make your lawn thicker.
TruNatural® Lawn Plan – Uses 100% natural fertilizer that encourages healthy grass growth and gradually thickens your lawn to help crowd out weeds. Plus, as a TruNatural customer, if you request an additional, hand-detailed weed application using conventional products to control broadleaf weeds, TruGreen will provide it at no additional charge.
TruGreen really knows how to make things greener. This is why they guarantee your satisfaction with their Healthy Lawn Guarantee®. The experts at TruGreen provide effective lawn maintenance services so you can enjoy the lush, green view outside of your home. And hey, your lush landscape will boost your curb appeal too, increasing the value of your home. Can't beat that, right? Visit our friends at TruGreen.com or call 866.688.6722 today to learn more about a specialized plan for you.