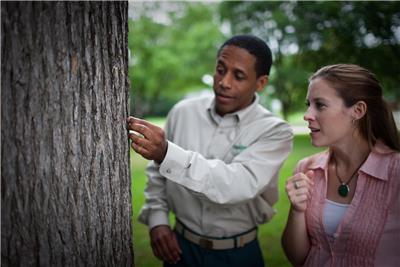 Tree Services
on April 21, 2013 by TruGreen
Trees add beauty and function to our landscapes. Even so, sometimes we neglect them. Our trees often appear healthy enough on the outside, but there may be damage occurring on the inside. That's why it's difficult to truly identify and assess the overall health of our trees. More times than not we assume that trees can take care of themselves, but that's not the case when pests or diseases attack. Professional care is needed to give trees the nutrients, protection and conditions they need to fully thrive. The question then becomes, which shrub and tree services do I need? Is there an affordable tree service company that I can count on?
There's a lot at stake here.
First, consider the financial investment you've made in your home; your landscape and trees are a significant part of that investment. A flourishing landscape greatly enhances the overall health and appearance of your property while increasing its value. Nonetheless, think about how much it costs to replace them if they are damaged and neglected. Talk about sticker shock!
A professional tree services plan is a wise investment when you add up the dollars-and-cents and the life-enhancing benefits of trees and other woody plants in your landscape. TruGreen's lawn experts, including PhD certified specialists, kick off your plan with a Tree & Shrub Evaluation®, in which they will examine your tree and shrub types and inspect for pests and diseases as the starting point of your tailored tree services.
After carefully inspecting and evaluating your valuable landscape, these trained experts can advise you of which shrub and tree services best meet your property's unique needs. There's no guessing.
He or she will then create a tailored plan, combining any necessary shrub and tree services, designed to keep your valuable landscape healthy and attractive. The following are just some of the tree services available to create a tailored plan that fits your specific needs:
Early growth protection minimizes early season damage by fighting against various insects, mites and diseases.
Overwintering insect control fights against insects that survive the winter, preventing the severe damage they can cause.
Mid-season foliage protection helps prevent damage to foliage by fighting against aphids, lace bugs, mites and scale.
Horticultural oil controls a variety of insects in their overwintering stage, before landscape damage occurs.
Late-season foliage protection provides protection against late-occurring insects and mites and improves tree vigor.
Targeted trunk injection corrects nutrient imbalances, controls pests and enhances tree health and color.
Spring feeding enhances tree vigor, growth and flowering potential.
Root zone fertilization injects micronutrients to the root zone of trees to stimulate growth and deep root development.
It's important to protect the substantial investment you've made in your home, and by taking care of your trees and shrubs with proper tree services, you will greatly enhance the overall health and appearance of your property while increasing its value.
Start now with a Tree & Shrub Evaluation, performed by a TruGreen® Tree & Shrub expert, by signing up for a tailored plan designed to meet the needs of your landscape. After carefully inspecting and evaluating your tree and shrub types, this trained expert will determine exactly what they need to flourish. And with TruGreen's Healthy Tree & Shrub Guarantee®, they promise to keep working on your yard until it's just the way you want it. For more information, visit TruGreen.com or call 866.688.6722 today.