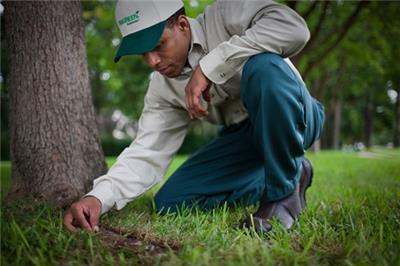 on May 13, 2013 by TruGreen

Think it's impossible to find an affordable tree service staffed with experts you can trust? The truth is, you don't have to pay an arm and a leg to find experts that really know their stuff. TruGreen's TruExpertSM PhD-certified specialists know what your trees need and how to balance healthy trees and shrubs with the rest of your landscape's health. Get top-quality care at affordable rates from TruGreen®.
affordable tree service from TruGreen®
TruGreen's affordable tree services are specially tailored to your landscape's unique needs. We start with a Tree & Shrub Evaluation® that checks your arboreal landscape for pests, diseases, and potentially problematic environmental conditions. The same consultant (or a team, depending on the size of your property) can work with you to evaluate your landscaping as an entire unit—trees, flowerbeds, lawn, and landscape features—to achieve optimal health for your entire lawn.
tailored care makes tree service affordable
TruGreen® tree services are designed to work together to create a tailored package for you. TruGreen's affordable tree service options include:
Spring Feeding: In the crucial early season, bring nutrients directly to the roots to maximize vigor, growth, flowers, and vibrant spring color.
Foliage Protection: Fight damage to foliage and overall health with early season, mid-season, and late season foliage protection options targeted to the lawn damaging insects, mites, and diseases that are most active at each time of year.
Root Zone Fertilization: Let our certified specialists design a fertilization program that will inject micronutrients right to the heart of the root zone, stimulating growth and encouraging deep root development. Improve the health and longevity of your tree by combining a spring feeding with later-season fertilization.
Overwintering Insect Control: Many lawn damaging insects with the potential to do serious damage survive the winter, living on or in the tree during its dormant period – when it has only limited ability to protect itself. Prevent the severe damage caused by overwintering insects with our tailored packages.
Horticultural Oil and Trunk Injections: Designed specifically to manage difficult lawn damaging insects, correct nutrient imbalances, maximize health, and enhance plant beauty and color, our oils and injections can be applied as needed by specialists who use scientific observation to target treatments to your unique needs. Only used when needed, these applications are designed to help your trees and shrubs flourish.
Keeping your trees healthy enhances some of the most dramatic features of your landscape. It also protects people you love from harm and guards the safety of your personal property—trees can cause significant damage to homes and cars as well as people. To find out more about TruGreen's affordable tree service options designed using specialized, science-based solutions, call 866.688.6722 or browse our website at TruGreen.com.