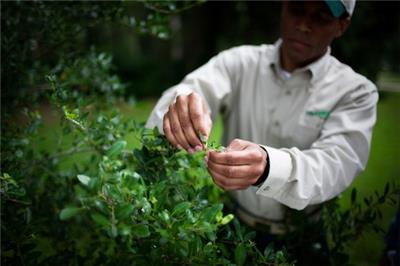 Tree Service from TruGreen
on February 28, 2014 by TruGreen
Homeowners oftentimes realize that part of having a yard they are proud of requires relying on a tree service that can help take care of their trees and shrubs as well. Your trees and shrubs are an important investment, and it can be a lot of work keeping trees and shrubs healthy. Some homeowners are not familiar with the proper way to take care of these essential plants. The PhD certified specialists at TruGreen® understand that tree services are just as vital to a healthy yard as proper lawn care, which is why they have specialized services specifically designed to give those trees and shrubs the proper care they need to thrive.
TruGreen tree services: science-based expertise
The rigorous agronomic training that TruGreen offers ensures that your TruExpertSM Tree & Shrub Specialist understands the ins and outs of tree and shrub care on your property. That means knowing how your trees and shrubs cope with the climate in your area, what diseases or pests they are most prone to, and how to identify key issues that must be resolved to achieve the right balance. With the right knowledge of science-based solutions for your landscape, TruGreen is prepared to tackle a variety of issues pertaining to your trees and shrubs, and they can tailor a unique plan of action that best suits your needs.
what happens after I sign up for a tree & shrub service?
Once you sign up for service, your Tree & Shrub Evaluation® will be scheduled. This includes a comprehensive look at your property's trees and shrubs, from the type of trees you have to their current condition. Your specialist looks for insects, diseases, and problem areas to create a unique plan for your landscape. TruGreen's tree service nourishes root zones to ensure proper nutrition, plus they help prevent damage from pests, diseases, and winter conditions. Your specialist will also provide you with information on proper ways to water, prune, and care for your landscape to get the most out of your TruGreen service. Common tips from our specialists include:
Take care not to use a weedeater or mower near the base of your shrubs and trees. Contact could damage them.
Transplant problems are often associated with recently planted (1 – 5 years old) ornamental trees and shrubs. Planting too high, too deep, too shallow or in the wrong place can negatively impact your landscape.
Keep mulch around your ornamentals at a 1 – 3 inch level. Too much mulch (greater than 3 inches) will increase the amount of moisture, decrease air and gas exchange, and cause shallow roots to develop.
A tailored plan is then designed to meet the unique needs of your trees and shrubs, and visits are scheduled for every four to six weeks. You can stay up to date on when your next service visit will occur by setting up your online account at myaccount.trugreen.com or by calling 1-800-TRUGREEN. We always recommend setting up an account to manage your services online, and you can also sign up for a variety of payment options. EasyPay allows your debit or credit card to be automatically charged following a service visit. You can also pay for a full year of service ahead of time with the PrePay and Save option, which could save you 10% on your chosen plan.
experience the TruGreen difference today
The health of your landscape includes your trees and shrubs, so it's important not to overlook them if you're set on achieving a lawn you'll love. Fortunately, you can count on TruGreen to create a science-based plan for your property's trees and shrubs. And with the Healthy Tree & Shrub Guarantee®, TruGreen will make any necessary adjustments to your services to ensure your satisfaction.* For more information, visit TruGreen.com or call 866.688.6722 today.
Visit our learning center at www.trugreen.com/learningcenter for expert lawn care tips and lawn care education or to learn more about what to expect from your TruGreen services. You can also connect with us on Facebook, Twitter, Pinterest and Google+.