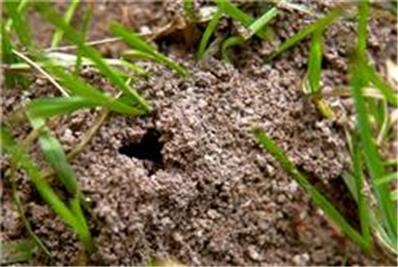 Overseeding
on April 13, 2013 by TruGreen
There often grows a special bond between homeowners and their lawns. However, in this case between me and my lawn, I wouldn't call it an obsession ... Let's just say that I don't mind it when I notice a neighbor driving by and slowing down just to sneak a peek at that smooth carpet of lush, green grass in my front yard.
OK, maybe I do take this love for my lawn a bit too far sometimes. Case in point when I convince myself that I could (and should) overseed my lawn on my own.
Not the whole lawn, mind you, just the areas that need it—the bare patches in the backyard where the kids play. And the grass in the large shaded section of my property along the back fence is looking thin, too. I didn't realize those trees were getting so big and providing so much shade. The lawn back here needs my help. Desperately.
So I decide to become my own lean, mean overseeding machine — just to give it a try, mind you. By the way, overseeding a lawn is just what it sounds like; it's spreading new grass seed on top of the existing lawn. I can do it when I aerate my lawn or by using a slit seeder, a machine that slices thin grooves into the soil and drops the seeds into those grooves.
Since I don't have either a lawn aeration machine or a slit seeder, I'll use a garden rake to work up the bare soil in the bad spots of my lawn. Hmm, am I doing this at the right time of the year? I've been told late summer or early fall is the best time of yer for overseeding, when the weather is not hot and dry. Spring can work, too, however that can be risky if I don't get the grass up and strong before hot and dry weather arrives.
Here's my plan:
Step One: Buy grass seed. Oops, the first unexpected challenge—what kind to buy? The hardware guy asks what kind of grass I have in my lawn. I tell him I'm pretty sure it's a mixture of Kentucky Bluegrass and Tall Fescue. He advises a 20-pound bag containing a mixture of different species and varieties of seed. He says they're "improved" varieties. Sounds good to me.
Step Two: Find a spreader. I can either buy one (should have thought of that at the hardware store) or borrow one from my neighbor. He's a good guy and will let me use his.
Step Three: Pour the grass seed into the spreader hopper and try to figure out just where to put the spreader setting. I set it to the middle setting and begin pushing it over the damaged areas of my lawn. This is getting to be a lot of work. Just a couple more passes back and forth over those damaged and weak sections of the lawn ought to do it.
Step Four: Enough is enough. This is too much work.
Yes, to answer what you're probably wondering, I think I did a fairly okay job of overseeding, but I really won't see results for weeks. And no, I don't want to do it again. Ever.
Next time I think my lawn needs overseeding, I'll take the advice of my TruGreen® lawn specialist. As much as I love my lawn, there comes a time to count on a trained TruGreen service expert who knows what kind of seed to use and has the know-how and equipment to do the job efficiently. Painlessly.
And after the job is done, I know I can count my TruGreen specialist to advise me on proper fertilization and irrigation so that the overseeding restores my lawn to its healthiest, greenest best.
For more information about TruGreen lawn care services, visit TruGreen.com or call 866.688.6722.