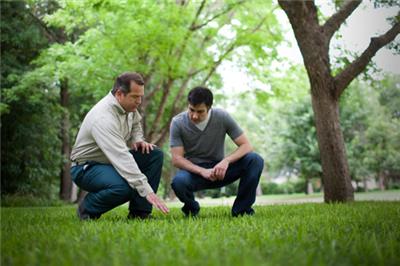 Lawn Treatment
on May 20, 2013 by TruGreen
So, you've been watering and mowing regularly. You're keeping up with your lawn maintenance as scheduled. Still, you notice something's not quite right; there may be some dead patches of grass, perhaps a bit of what looks to be discolored lawn. Don't panic! There could be many reasons why your lawn might be looking a bit lackluster. The first step in picking a lawn treatment that best suits your needs is to identify the source(s) of what is damaging your lawn.
possible culprits: lawn disease and insects
The lawn treatment you use must be tailored to help eliminate the source of what's keeping your lawn from reaching its fullest potential. While any number of things could be attacking your lawn, there's a good chance the culprit falls into one of two camps: pesky pests or lawn disease.
Lawn damaging insects. From white grubs to armyworms, lawn damaging insects can go practically undetected at first, only to wreak havoc on your landscape. Infestations can happen quickly, but your lawn may show signs of attack right before it gets out of control. In fact, depending on your region, grubs may be your most common enemy; if that's the case, then a preemptive lawn treatment to kill the larvae before it turns into a full-blown infestation might be the best solution.
Lawn disease. On the other hand, brown spots could be caused by fungus lurking in the crowns and roots of infected plants during the dormant season. This fungus, known as dollar spot, is commonly known to appear in areas experiencing drought conditions. In such cases, your lawn treatment plan might include core aeration service, which helps water and moisture reach deeper levels in the soil to give your turf more of what it needs most. Dollar spot could be treated with a lawn fungus treatment, but this is just one of many conditions that requires lawn treatment services from a professional company.
TruGreen® phd-certified specialists
The TruExpertSM PhD-certified specialists at TruGreen® are trained to identify the problems that are affecting your lawn, what lawn treatment services your lawn needs, and how a treatment plan will help your lawn become healthy, green and lush once again. After all, TruGreen experts have over 35 years of experience in determining the cause of many lawn problems, as well as tailoring lawn treatment plans that address the specific needs of homeowners just like you. Best of all, when you let TruGreen take the reins, you can rest assured that you're counting on the right experts for the job.
Call TruGreen today at 866.688.6722 or visit TruGreen.com for more information.