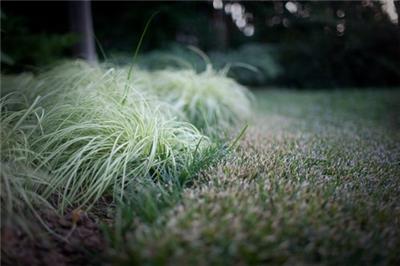 Lawn Rust Treatment
on June 20, 2013 by TruGreen
Lawn rust treatment is not a topic that comes to mind frequently, but if you are a homeowner who happens to notice ugly discoloration from rust on your lawn, you're going to want to know more on the subject. Lawn rust can be an unknown and confusing topic, and questions often abound. For example, why is it called "rust"? Does your grass somehow grow "rusted" over time? Is it the same thing as lawn fungus or grass fungus?
Before determining whether you need lawn rust treatment to restore your lawn to a healthy, green and lush condition, you must first understand how to identify lawn rust, what causes its appearance, growth and how it can affect your lawn.
how do i identify lawn rust?
Perhaps you notice from a distance that your lawn has a golden yellow hue to it, but upon closer inspection of individual grass blades you see numerous yellow flecks embedded in the leaf tissue. These are often in rows that are parallel with the veins of the leaves. The spots take on a reddish-brown color similar to rusty iron, and rubbing the leaf surface reveals a powdery material. In severe cases, your shoes may become covered with rust spores from walking across your lawn. If you notice these signs, you may need lawn rust treatment.
when does rust occur?
Rust diseases commonly occur in late summer when lawns are somewhat stressed by summer weather and are dormant. Rust also occurs more frequently in lawns with poor soil fertility, combined with high humidity and shorter day length. Cloudy days and high humidity—alternating with sunny days, high humidity and high temperatures—promote the formation and spread of lawn rust. In most situations, the disease may be present but not detected without closer examination.
how does lawn rust affect my yard?
Rust on turfgrass can discolor a lawn if the turfgrass is heavily infected, but rust disease generally does not permanently damage the turf. All turfgrasses can be infected with rust, though certain grasses—such as ryegrass, zoysiagrass and bluegrasses—are more susceptible to rust. Rust may cause a temporary overall decline and thinning of your lawn.
what are lawn rust treatment methods?
Infrequent but deep watering, along with fertilization will help most lawns recover and grow out of damage caused by lawn rust. An effective way to combat rust is to be extremely attentive to your lawn's changing needs and to have an ongoing lawn maintenance program in place designed to control all of the things that can pose a threat to your lawn. Such a program may include irrigation, fertilization, rust treatment and pest and weed control, to name a few.
TruGreen® offers science-based solutions to cure lawn rust and solve all your lawn care needs, with a range of lawn plans designed to give your lawn the right help at the right time. Every TruGreen full service lawn plan begins with a Healthy Lawn Analysis®, which is peformed by a TruGreen PhD-certified specialist. This evaluation helps your specialist create a tailored approach that gives your lawn exactly what it needs to reach its full potential. A thriving lawn is less susceptible to environmental threats and disease like lawn rust, and is best sustained by an active, ongoing lawn maintenance program like the ones TruGreen offers.
Visit
TruGreen.com
or call 866.688.6722 today to sign up for a lawn plan and schedule a Healthy Lawn Analysis.