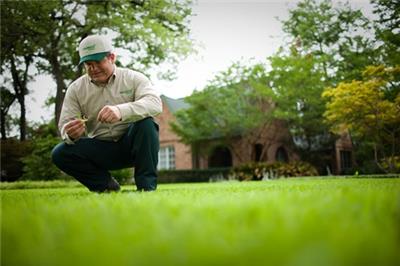 on June 12, 2013 by TruGreen

While lawn maintenance is definitely a year-round task, it takes on even greater importance during the summer when you want your lawn looking its absolute best. Think of all the activities that you enjoy outside when the weather is warm. From outdoor cookouts to family fun and games to casual entertaining with friends and neighbors, you want your lawn to be healthy, green and lush to provide the perfect setting.

A routine schedule of lawn maintenance will help you not only achieve a lawn you'll love to show off but also one that benefits the environment in many ways:
Grass cools surrounding areas. As much as 50% of heat striking turf areas is eliminated by a process called "transpiration" in which plants cool themselves. So your grass acts as a miniature air conditioner.
A 2,500-square-foot lawn produces enough oxygen for a family of four for one year.
Lawns serve as air filters and collect dust and dirt, trapping 12 million tons annually in the U.S.
Lawns pull in greenhouse gases as they grow and reduce carbon dioxide caused by burning fossil fuels.
lawn maintenance services tips
While there's no shortage of reasons why you want a healthy, green lawn, you might not understand just exactly what should be included in a lawn maintenance service plan. Here are some tips that can help bring your lawn to its fullest potential.
Keep the roots of your lawn well nourished. A healthy root system is your lawn's best defense against invasive pests, weeds and stress due to heat, cold or drought. Make sure that your lawn maintenance program takes great care of the roots in your lawn.
Routine fertilization is a key maintenance practice for lawns. Achieving a thriving lawn requires a rapidly growing turfgrass plant for good density as well as recovering from stress. An effective program of lawn maintenance should carefully balance the need for a healthy lawn while avoiding excessive growth that can be caused by over-fertilization.
Lawn aeration can greatly improve the overall health of your lawn. Core lawn aeration helps control the amount of thatch in your yard, that layer of tightly woven plant material that can prevent nutrients and water from reaching deeper into your soil.
experience the TruGreen® difference
In addition to the routine mowing and watering that you do on your own, lawn maintenance involves consistent services based on science that help your lawn thrive. A leader among lawn maintenance companies, TruGreen® offers a host of lawn maintenance services that can be tailored to meet the individual needs of your lawn. These services include:
Lawn Aeration – Removes plugs to relieve compact soil and increase the flow of air, water, and nutrients deeper into the roots.
Fertilization – A slow-release formula is applied at key points in every season to stimulate and maintain growth throughout the year.
Pest control – Fight a variety of troublesome lawn damaging insects like ants, spiders, earwigs, fleas and ticks year-round.
Preemergent and targeted weed control – Helps manage the spread of various weeds as they pop up throughout the year.
When you sign up for a TruGreen lawn plan, a PhD-certified specialist will perform a Healthy Lawn Analysis® to determine exactly what your lawn needs and then will further tailor a plan to help you achieve a lawn you'll love. And you can rest easy knowing that TruGreen's lawn maintenance services are covered by the Healthy Lawn Guarantee®, which ensures your complete satisfaction.

Visit TruGreen.com or call 866.688.6722 today for more information about all of their lawn maintenance services.