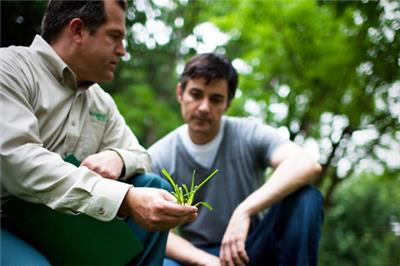 Lawn Fungus Treatment
on May 26, 2013 by TruGreen
Did you know that your lawn could suffer from a disease? In most cases, a grass fungus is the cause. When signs of a turfgrass disease appear, it's time to consider lawn fungus treatment options designed to restore your lawn to vibrant health.

How do you know if your lawn is suffering from a disease caused by a lawn fungus? Unless you're a trained lawn expert, say like a TruGreen® PhD-certified specialist, it's not likely that you'll be able to make an accurate diagnosis of what's ailing your lawn—especially when it comes to identifying specific lawn diseases. This is especially true because many lawn diseases exhibit similar symptoms. And the lawn fungus treatment your lawn needs will vary depending on the disease.

That doesn't mean you should ignore the brown, sickly or moldy patches of grass in your lawn. All of these are symptoms that your lawn could be the victim of a lawn disease, and that it might be time to consider the possibility of seeking a lawn fungus treatment. A lawn disease can happen anywhere and to any kind of lawn.

Here is a short list of some of the more common lawn diseases caused by a lawn fungus, symptoms that may indicate their presence, and the treatment options TruGreen recommends.
Brown Patch: Brown patch becomes a problem when fungus penetrates the roots of the turfgrass in your lawn. The disease appears as straw-colored circular areas ranging from two to 50 feet in diameter. If the turfgrass in your lawn is tall fescue, St. Augustine, Kentucky bluegrass or ryegrass and your neighborhood is experiencing high humidity, you may run into brown patch. Treatment for this is proper fertilization and reduced irrigation. This helps get the disease under control. In some cases, you may need to consider a lawn fungus treatment.
Rust: Rust looks just like its name implies. It usually affects just the leaf blades, with the diseased portions of your lawn taking on an unappealing, orange (rusty) color. Treatment is proper fertilization that promotes new growth. Fall aeration along with seeding can help improve the look and the health of your lawn, too.
Dollar spot: Dollar spot can start out as small, brown or straw-colored spots about the size of silver dollars and are most common in the early summer. Dollar spot can worsen and spread in lawns that are lacking nutrients necessary for growth. The recommended treatment is infrequent but deep watering, combined with proper mowing. A good fertilization program that stimulates grass growth, coupled with adequate soil moisture, may allow turf to grow out of the disease. Aeration is also advised to help moisture penetrate the lawn and help control the thatch.
Snow mold: Snow mold, as its name suggests, is a disease that appears in cold climates. It is actually fairly easy to identify once the snow melts and spring arrives. Look for uneven, circular patches of dead and matted grass blades throughout your lawn. Extended cold, wet weather favors the spread of this particular lawn fungus. Treatment is to continue mowing, to water as needed and to provide proper fertilization.
If you do suspect that your lawn is unhealthy and may need specialized lawn fungus control and care, such as a lawn fungus treatment, the best thing you can do is call in the experts from TruGreen. Sign up at TruGreen.com or call 866.688.6722 today.
By signing up for a TruGreen lawn plan, you will qualify for a Healthy Lawn Analysis®. As a full plan customer, your lawn will be protected by the TruGreen Healthy Lawn Guarantee®, which means a specialist will return as many times as needed to make adjustments and ensure your satisfaction.