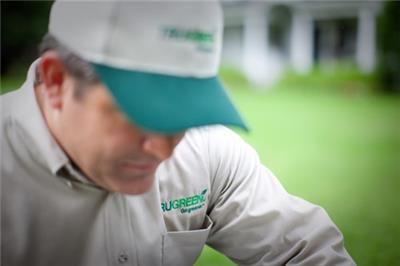 Lawn Maintenance Companies
on May 28, 2013 by TruGreen
Have you considered how important lush, well-maintained lawns are to your neighborhood? What do lawns say about you and your neighbors? A healthy, green lawn indicates pride of ownership. It shows you care. On a more personal level, a lush, soft lawn gives us a wonderful place to unwind and play, and a safe and enjoyable environment for our children and pets too.
But a lush, healthy, green lawn doesn't just happen. And, it's not just a matter of only proper mowing and watering practices either—though both certainly are steps toward achieving a healthy lawn.
the science of lawn care
There's a lot of science involved in lawn care maintenance. That's the case whether you attempt to do your own lawn maintenance or if you seek the help of one of the many lawn maintenance companies offering to do it for you.
Lawn care maintenance includes a variety of services, including fertilization, lawn aeration, and the control of weeds, thatch and lawn disease. The cost of buying your own equipment and educating yourself on lawn maintenance techniques can be daunting. Now you know why so many of your neighbors rely on a professional lawn maintenance service provider.
Given the amount of knowledge and effort required to give your turfgrass the level of lawn maintenance it requires to be a source of pride for you and your family, you will likely start comparing the offers and expertise of the lawn maintenance companies that are offering services in your neighborhood.
TruGreen® science-based solutions
Why not start with a recognized leader in the industry, TruGreen®, which is uniquely equipped to help you achieve a lawn you'll love?
Guesswork rarely leads to a desired result. But it does lead to wasted time, or worse, lawn damage and a long, drawn out recovery. With an expert lawn care service like TruGreen, you can avoid these hassles and spend more time enjoying your lush, green lawn.
TruGreen provides science-based solutions tailored to meet your specific needs. TruGreen specialists are PhD-certified through its TruExpertSM Certification Program. This training is rigorous and requires annual recertification, but it ensures that TruGreen specialists develop and maintain the expertise to deliver superior lawn and landscape results.
You can count on TruGreen, one of the country's leading lawn maintenance companies, and its PhD-certified specialists to deliver a lawn care plan that is tailored to your lawn's specific needs, giving you and your family a lawn that's the envy of your neighborhood. Your plan will start with a Healthy Lawn Analysis® that will let you know exactly what your lawn needs to help give you a lawn you can be proud of. Every full plan customer enjoys the peace of mind of the TruGreen Healthy Lawn Guarantee®.
Call 866.688.6722 or visit TruGreen.com to sign up for lawn maintenance services that are tailored toward your lawn's unique needs, and begin enjoying your lush, healthy lawn.