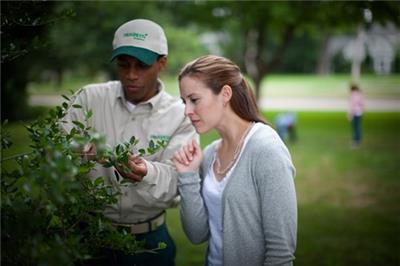 on May 22, 2013 by TruGreen

The importance of lawn maintenance services simply cannot be overstated, as your lawn relies on a regular schedule of lawn care service to receive the nutrients it needs to achieve the color, thickness and overall health benefits it needs to thrive. Consider the things that pose a threat to your lawn, such as lawn damaging insects, weeds, high temperatures and drought, to name a few. There are lawn maintenance services designed to address all of these and more, so that you can achieve a lawn you'll love.
why do you need lawn care maintenance?
An expert in lawn care service for more than 35 years, the experts at TruGreen® offer the following top 5 reasons why you need lawn care maintenance:
It helps prevent lawn diseases. Every season, problems like brown patch disease pose a threat to the health and stability of your lawn. Some diseases are more prevalent in certain areas and in different seasons according to variances in temperature. Brown patch, for instance, typically thrives in warmer weather conditions, while others—like dollar spot—are more prevalent in moderate to cooler weather. Regular lawn maintenance can help catch those problems and help prevent them before they start.
It adds to your home's curb appeal. The National Association of Realtors® reports that 71% of homebuyers think curb appeal is an important factor when choosing a home. The truth is that a healthy, green, well-maintained landscape adds to your home's curb appeal and offers a good first impression to potential buyers. Whether you're selling your home in the coming months or staying put for a few years, a beautifully maintained front yard with green, lush turf and trimmed bushes and trees is a great way to show your neighbors that you love your lawn.
It contributes to healthy grass for family and pets to play in. Summer is the time when kids are out of school and you can usually find them playing outside with their beloved pets. Summer is also a time when your lawn needs more attention than ever to stay healthy, as it is exposed to everything from drought to special pests. Lawn maintenance enables us to understand more about the rapid changes happening within your lawn while also dealing with them head on.
It's good for the environment. Did you know that grass is a natural filtration system? As nature's air filter, lawns filter the air of 12 million tons of dirt and dust annually in the U.S. Healthy, green lawns also filter water, which helps keep your neighborhood clean. Greenhouse gases and carbon dioxide are your lawn's primary food sources, so both are reduced dramatically by the presence of lush greenery. All of these—and so much more—are reasons why maintaining a healthy, green lawn is important to the environment as well as to your yard.
It helps control pests and weeds. Without lawn maintenance services, you run the risk of lawn damaging insects such as fire ants invading and destroying your lawn, as well as potentially causing pain, panic and injury to family members and guests. Regularly scheduled lawn care maintenance detects and treats pests and troublesome weeds before they get out of hand.
TruGreen: lawn maintenance services you can count on
When it comes to lawn maintenance service, TruGreen is uniquely equipped to help you achieve a lawn you'll love. Once you choose one of TruGreen's lawn care packages, a TruGreen PhD-certified specialist will conduct a free Healthy Lawn Analysis® and further tailor a plan that addresses your lawn's specific needs. Here's the bottom line: Regular lawn maintenance doesn't just give you the green, beautiful lawn you want; it also helps you maintain what you have to prevent issues in the future. Start your lawn maintenance schedule today! Visit
TruGreen.com
or call 866.688.6722 for more information.