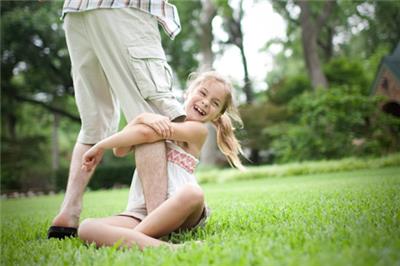 on June 2, 2013 by TruGreen

Think about the wonderful times you spend with family members on your lawn: cheering on your children's first steps on green, thick grass, knowing full well that if they fall, the landing will be soft; or playing touch football, kickball, dodge ball, tag, croquet or even a simple game of catch. That's quality family time that makes for the best memories. And it all happens on your thick, green, beautifully lush lawn.

Lawn maintenance plays a significant role in setting the stage for hours of family fun. Stop for a second and consider how important your lawn is to your family's lifestyle and the role that lawn maintenance plays in it.
the importance of lawn maintenance service
We love to relax, play and entertain family and guests outdoors. With all of the hassles of flying and the expense of driving, the outdoor spaces we value more than ever are our safe, convenient, inviting lawns that surround our homes. Consequently, we're improving our lawns and enjoying them more than ever, even during our time off from busy work schedules. There's a word for this: it's called a "staycation."
But your lawn, like your home, requires ongoing care to help it thrive and reach its fullest potential. First, it needs the proper types and amounts of nutrition at the right times to help it look its best throughout the year. Then, there are many things that can spoil its beauty and health if you allow them to get out of hand—unsightly weeds, lawn damaging insects and lawn diseases, to name a few.
Some people attempt to do their own lawn maintenance to deal with these things that can pose a threat to their lawn. Other homeowners greatly appreciate the convenience and the results that an expert
lawn maintenance service
, such as TruGreen®, delivers in giving them healthy, soft and green lawns.
TruGreen: tailored lawn maintenance solutions
There's an excellent reason why TruGreen is one of America's leading lawn maintenance companies. Their PhD-certified specialists are trained to tailor a lawn maintenance plan to fit each lawn's individual needs. TruGreen offers a range of science-based lawn plans designed to give your lawn the right help at the right time, including fertilization, weed control, pest control, lawn aeration and overseeding. Once you sign up for a TruGreen lawn plan, a specialist conducts a Healthy Lawn Analysis®, the first step in tailoring a program for your lawn's special requirements.
By becoming a full lawn plan customer, you will also get peace of mind of knowing that your lawn is covered by the TruGreen Healthy Lawn Guarantee®. That means that you'll love your lawn, otherwise TruGreen will return to your property as often as needed to make any necessary adjustments to ensure your satisfaction.
For more information about lawn maintenance service, call 866.688.6722 or visit
TruGreen.com
today.