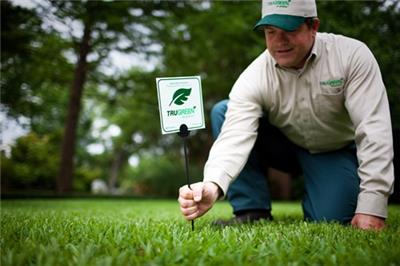 Lawn Maintenance
on May 16, 2013 by TruGreen
As a homeowner, you understand how lawn maintenance can be a full-time job. After all, between the mowing and the watering, how much time do you really have left to dedicate to your lawn? That's the biggest issue. Sure, you can find someone to mow, and you can install a sprinkler system, but that's not enough to achieve a lawn you'll love.
That is why partnering with a lawn care specialist who can help you achieve a healthy, green lawn that you will love is a great idea. While you take care of the mowing and watering, a PhD-certified specialist from TruGreen® will come up with a tailored lawn maintenance schedule involving fertilization, lawn damaging insect control and weed control, so you can feel confident about growing a lawn you'll love.
year-round lawn maintenance tips
Effective lawn maintenance includes a set fertilization schedule, a schedule best understood by someone with the knowledge and expertise to perform that service. A thorough fertilization plan – one that involves 6-8 treatments at regularly scheduled intervals –will help ensure your lawn's protection throughout the year.
Spring is the time to watch for and treat crabgrass and other weeds, whereas late spring/early summer is a good time to look out for lawn damaging insects and invasive pests. In the summer, the right nutrients will help your lawn withstand the effects of drought season. And in the fall, the right fertilizers will help with root growth as well as to maintain the hardiness of the lawn, while pre-emergent products could prevent winter weeds.
TruGreen: your lawn care partner
Suffice to say there are a lot of steps involved in making sure you have a healthy, green lawn year-round. Makes you feel a bit overwhelmed, doesn't it? Don't panic –just call in experts who really understand the science of a healthy lawn. When it comes to effective lawn maintenance services, the PhD-certified specialists at TruGreen are ready to help you grow a lawn you will love.
Regardless of the plan you choose for your lawn maintenance service, you can always count on TruGreen's Healthy Lawn Analysis® to tell you everything you need to know about your lawn and how to care for it, because TruGreen is all about finding science-based solutions to your lawn maintenance needs. And with TruGreen's Healthy Lawn Guarantee®, you'll be glad to know that your lawn maintenance partner will gladly visit your property as often as needed to make any necessary adjustments to ensure your satisfaction. Visit TruGreen.com or call 866.688.6722 to choose the TruGreen plan that's right for you and to schedule your free Healthy Lawn Analysis today.