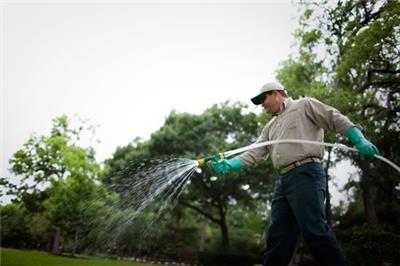 Lawn Fertilizer Schedule
on June 6, 2013 by TruGreen
Fertilizing your lawn might seem like it would be easy, but doing it effectively can be quite challenging. To choose the right lawn fertilizer schedule you must know the size of your yard, the kinds of grasses that grow there, your soil type(s), and how well the area drains.
before you apply lawn fertilizer
Before you undertake lawn fertilization on your own, understand there are a few things you'll need to do first:
Determine the square footage of the lawn to be fertilized. Multiply the length of your yard by the width, and then subtract the square footage of any areas that won't be fertilized, such as the driveway, a pool, or the home itself.
Identify whether your grasses are cool-season grasses, warm-season grasses, or a mixture of the two. If you planted the grass yourself or are conversant with grass types in the area, you may already know what types of grass make up your lawn. Or your geographic location may be one of the few that only comfortably hosts one or the other type. However, large sections of the U.S. are "transitional," home to both warm- and cool-season grasses. Warm-season grasses turn brown after the first frost, while cool-season grasses stay green all year (or nearly all year) in cool and transitional zones—but will go brown in summer in warm-season zones.
Determine soil types and drainage. If you have sandy soils that drain well, grasses will enjoy plenty of access to oxygen, but nutrients can leach out with draining water and won't remain as long in the soil. Clays and other poorly drained soils can actually be quite fertile, but poor drainage can still result in unhealthy grasses. Knowing your landscape will help you determine what your lawn needs to thrive.
Once you have completed these tasks, you might think you're ready to determine a functional lawn fertilizer schedule. Not quite. You also need to take into account local weather conditions and the times of day that will be most conducive to healthy lawn maintenance. For example, don't fertilize your lawn in the heat of the day in hot locations to avoid stressing roots. No matter how carefully you plan a lawn fertilizer schedule, application under the wrong conditions can still set you up for failure.
want help with your lawn fertilization schedule?
Do-it-yourselfers don't often want to ask for assistance—but when it comes to creating and executing the optimum lawn fertilizing schedule, it's best to call in the experts. For more than 35 years TruGreen® has been helping homeowners just like you achieve a lawn they love. When you sign up for a TruGreen lawn plan, you qualify for a FREE Healthy Lawn Analysis®. A TruGreen PhD-certified specialist explores every aspect of your lawn to determine exactly what it needs to reach its fullest potential. They take that information and further tailor a plan for your lawn—that plan can include a lawn fertilizer schedule to help your lawn thrive. For more information on how to achieve a lawn you'll love, visit TruGreen.com or call 866.688.6722 today.