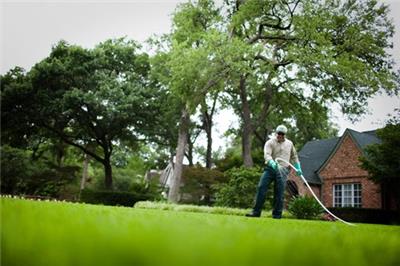 Organic Lawn Fertilizer
on May 27, 2013 by TruGreen
Everyone needs the right amount and balance of nutrition to maintain optimum health. The same theory of balance holds true for the turfgrass that makes our lawns thick, full and lush. That's why providing your lawn with the nutrients it needs through proper fertilization is crucial to achieving a healthy, green lawn you'll love.
lawn fertilizer: inside the numbers
At this point, given the wide selection of products available at your local retailer, you may be wondering what type of lawn fertilizer is right for your lawn. Let's start with some basic facts about lawn fertilizers. When you look at a bag of lawn fertilizer you will notice three numbers, such as 10-10-10 or 20-5-10. These numbers represent the percentages of nitrogen, phosphorous and potassium in that particular mix.
The first number is nitrogen (N), which makes grass plants grow and become greener. The second number is phosphorus (P), which stimulates root and seedling development (very important when establishing new grass). The third number is potassium (K), which promotes tolerance against disease and drought. (As a general rule, turfgrasses require N, P and K in the approximate ratio of 3-1-2, 4-1-2, or 8-1-3.)
lawn fertilizer options
How fast the nitrogen is released determines how fast the grass will "green up," how much it will grow, and how long the results will last. For this reason, it's best to provide your lawn with steady, controlled feeding. You have two excellent options for accomplishing this.
The first is using a controlled-release fertilizer that delivers just enough quick-release nitrogen to produce a fast greening, while the balance is released gradually by microbial action in the soil over a period of about eight weeks.
The second option for controlled-release feeding—and one that is becoming increasingly popular—is the use of natural lawn fertilizer products. Of course that leads to the question: what is the best organic lawn fertilizer? Natural lawn products contain fertilizer nutrients derived from animal components such as bone meal, feather meal and blood meal—including manures— along with plant by-products like corn gluten meal. In addition, natural minerals such as potash may be part of the formula.
the TruGreen® TruNatural® lawn plan
Deciding on a fertilizer can be difficult; fortunately, you can count on a TruGreen® PhD-certified specialist to recommend environmentally responsible products as part of TruGreen's TruNatural® Plan that provides an all-natural way to care for your lawn using 100% natural, organic fertilizer. This fertilizer encourages healthy grass growth and gradually thickens your lawn. A thick lawn serves as a natural shield against weeds.
To learn more about the TruNatural plan, the first step in making your lawn the envy of your neighborhood, call 866.688.6722 or visit TruGreen.com today. After you sign up, a specialist will come to your home and perform a Healthy Lawn Analysis®. That assessment will help your specialist further tailor a plan specific to your lawn and is complete with a recommendation for an organic lawn fertilizer that best suits your lawn's needs. And as a full plan customer you will begin enjoying the peace of mind that comes with knowing a TruGreen specialist will return to your property as many times as needed to ensure your satisfaction. That's what the Healthy Lawn Guarantee® is all about, and that coverage remains active for as long as your plan is in place.