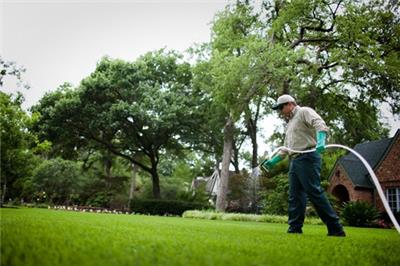 Lawn Fertilizing
on March 1, 2015 by TruGreen
One of the greatest joys of summer is seeing our kids and pets run through our healthy, lush, green lawn. Come to think of it, there really is nothing better than running barefoot through cool, refreshing grass during the sizzling summer months. If you don't have that kind of lawn right now, lawn fertilizing may just be what it needs to thrive.
grass: your turf's ac
Here's a tidbit that you might not know: Healthy grass serves as a sort of mini air conditioner for the surrounding area. As much as 50% of heat striking a turf area is eliminated by a process called 'transpiration' in which plants cool themselves.
benefits of lawn fertilization
The thing is, lawn fertilization isn't about just feeding your lawn whatever you buy at the store. Of course, lawn fertilizing is one of the most vital components of lawn maintenance, but it's not just because it gives your grass the ingredients it needs to be healthy. Fertilizing your lawn with the right nutrients, at the right time of the year, and following a regular maintenance schedule can:
Give your grass the color it needs. Lawn fertilizing is a major contributor to that green color that you love on your lawn. Nitrogen is the nutrient most often associated with the dark green color in your lawn, and together with plant genetics and adequate levels of moisture, they can give your lawn a healthy green hue.
Increase the density of the grass. The thickness of grass doesn't just make your lawn look full, although that is certainly a perk. Lawn density helps with weed control by taking up every inch of available space and stifling the growth of weeds.
Contribute to faster, healthier growth. Good lawn quality requires rapidly growing grass for both density and stress tolerance. Fertilizing your lawn is an essential part of that process; however, you must be careful to not overdo it.
Provide a quicker recovery from damage due to pests and weeds. Grass that is exposed to lawn damaging insects, lawn disease, high temperatures, drought conditions and invasive weeds can suffer from discoloration, patchiness and even sections of dead grass. A lawn fertilizer schedule will contribute to a damaged lawn's rapid recovery by promoting growth, especially in damaged areas.
Allow your lawn to become more resistant to stress conditions. Well-fertilized, healthy grass can also become more resistant to stress conditions, such as extreme weather and other issues.
TruGreen®: good for your lawn, safe for your family
Lawn fertilizing is an essential part of the lawn care process. It needs to be done strategically, at specific times of the year depending on where you live, to achieve full benefits. Without the knowledge or understanding of what nutrients your lawn needs the most, you are taking a risk with ineffective or detrimental fertilization that could damage your lawn.
The TruExpertSM PhD-certified specialists at TruGreen® are rigorously trained to understand everything about your lawn, including which nutrients your grass needs most, the best lawn fertilizer for your yard, how lawn fertilization works, and proper time and method of fertilizer application. That is why you can trust them, not just with your lawn care but also with your family's well-being. Learn more about lawn fertilizing as part of TruGreen's lawn care plans by visiting TruGreen.com or calling 866.688.6722 today.