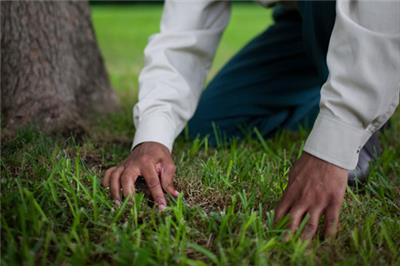 Lawn Fertilization
on June 13, 2013 by TruGreen
Summer is that time of year when your lawn takes center stage as family, friends and neighbors spend as much time as possible outdoors. Your lawn is a reflection of you; therefore, you're no doubt willing to go to great lengths to help your lawn reach its fullest potential.
Lawn fertilization plays a significant role in helping your lawn look its best, but there's more to it than simply buying any bag of fertilizer at the local retailer and throwing it around your lawn. The TruExpertSM certified specialists at TruGreen® understand the science behind lawn fertilization and other services that can help you achieve a healthy, green lawn. Here, they answer a few of the most frequently asked questions regarding fertilization.
can lawn fertilization affect the color of my grass?
When you look at a bag of lawn fertilizer you will notice three numbers, such as 10-10-10 or 20-5-10. These numbers represent the percentages of nitrogen, phosphorous and potassium in that particular mix. The first number is nitrogen, which makes grass plants grow and become greener.
Isn't the soil around most suburban homes sufficient enough in nutrients to provide healthy turfgrass plants for an extended period of time? If so, then I don't need to fertilize, right?
Actually, suburban soils typically do not have a sufficient quantity of nutrients; therefore, lawn fertilization is needed to provide the additional nutrition essential for lawn growth, health and vigor.
can lawn fertilization help my damaged lawn?
Turfgrass can be injured by various stresses such as a lack of moisture, high temperatures, pests and traffic. Ongoing fertilization programs (such as those offered by TruGreen) will promote growth and recovery of lawns that have been damaged. Their PhD-certified specialists can tailor a program and lawn fertilization schedule that addresses your lawn's specific needs.
how do I know how many bags of lawn fertilizer or units of liquid lawn fertilizer to buy?
Fertilizers, weed control products and other soil amendments are typically sold by the amount necessary to cover a certain square footage. For example, one bag covers 5,000 square feet. So first determine the square footage of your lawn (exclude the square footage of the house or driveway) by multiplying the length of your lawn by its width. If you have 34,020 total square feet, divide that number by the allowance per bag to get your answer: 34,020 / 5,000 = 6.8. You will need roughly seven bags of lawn fertilizer.
do I need to determine the type of grass I have before buying lawn fertilizer?
You should identify your grass as a cool- or warm-season grass. If you planted the grass yourself or are conversant with grass types in the area, you may already know what types of grass make up your lawn. Or your geographic location may be one of the few that only comfortably hosts one or the other type. However, large sections of the U.S. are "transitional," home to both warm- and cool-season grasses. Warm-season grasses turn brown after the first frost, while cool-season grasses stay green all year (or nearly all year) in cool and transitional zones—but will go brown in summer in warm-season zones.
call in the experts.
TruGreen PhD-certified specialists have the training and expertise to recognize your lawn's individual needs. A Healthy Lawn® Analysis performed at the beginning of any TruGreen lawn plan will determine what type of grass you have, and your specialist will further tailor a plan that includes proper lawn fertilization at key times throughout the year to help your lawn reach its fullest potential.
Visit
TruGreen.com
or call 866.688.6722 today to sign up for a lawn care plan and schedule a Healthy Lawn Analysis.