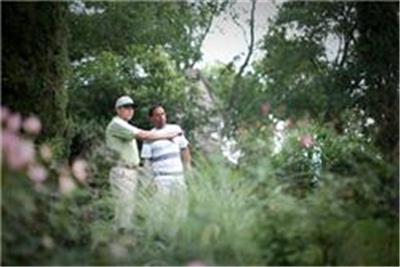 Lawn Disease Identification
on April 12, 2013 by TruGreen
I don't know about you—but for me, nothing feels more wonderful than stepping onto a beautiful, healthy, green lawn. That's why lawn disease identification is so important—the last thing you want is to open the door and find brown, sickly or moldy patches of grass. The good news is that identifying lawn disease is attainable, even for someone who doesn't know much about lawn care. However, it takes some study time, a few lawn disease pictures and a healthy dose of preparation; with those things you should be able to keep your lawn healthy with proper disease identification. This crash course on some of the most invasive lawn diseases—what they look like, why they happen, and how you may be able to make them go away—will get you started.
Brown Patch
Brown patch is a problem at the root level, quite literally. This condition occurs when fungus penetrates the roots of your lawn and kills it from the inside out.
Signs and symptoms: On most lawns, the grass is cut somewhat high and the disease appears as straw-colored circular areas ranging from two to 50 feet in diameter. On closely mown grasses, diseased areas also tend to be circular, but with an advancing gray ring surrounding the brown patches that is most visible early in the morning when the grass is damp.
Causes: Are you guilty of over-fertilizing or over-watering your lawn? Most times, brown patch happens as a result of too much of a good thing, so to speak.
Treatment: So what's the key to making things better? Well, start with a healthy balance of fertilization and be sure to reduce watering. In some cases, you may need to consider applying a fungicide appropriate for treating brown patch.
Snow Mold
If, on the other hand, you live in a cold climate, you may be quite familiar with snow mold, which forms when snow covers your lawn for extended periods of time.
Signs and symptoms: Snow mold is fairly easy to identify once the snow melts and spring arrives. Look for uneven, circular patches of dead and matted grass blades throughout your lawn. You may or may not see the fungal growth; gray snow mold tends to be white-to-gray in color, and pink snow mold tends to be white-to-pink in color. If your grass looks less than enthused to see the light of spring, chances are you have snow mold in your yard.
Causes: Extended cold, wet weather favors snow mold pathogens. Prolonged wet periods (fog, mist, rain, snow) favor both types of snow mold. Extended snow cover on unfrozen soil is the ideal condition for snow mold to occur.
Treatment: Raking the damaged turf in the spring will assist in recovery. Raking removes matted grass, improves air circulation, and stimulates new grass growth.
Rust
Another common lawn disease, rust, looks exactly like what its name implies. Usually affecting just the leaf blades, this condition leaves an unappealing, orange color on the grass and keeps your lawn from looking green and lush.
Signs and symptoms: Rust will give your lawn that sickly orange hue that can only be described as...well, rusty. To find out if rust is indeed what's ailing your poor lawn, grab a white paper towel, take a handful of grass blades in your hand and rub. If you're left with orange-colored blades of grass and a powdery material, you've got yourself a case of rust.
Causes: Common in most states and widely distributed throughout the U.S., rust develops in places that lack adequate fertilization. Rust usually develops in late summer or early fall, when lawn growth slows and weather conditions are optimal for rust.
Treatment: Fertilization is the key to preventing rust issues. Fall fertilization promotes new growth, and in many cases, fall aeration along with seeding can also help improve the look and the health of your lawn.
While you should know about proper lawn disease identification, it can be a lot to handle. Rather than worrying about all of the ways you might be neglecting your possibly diseased lawn, why not let a TruGreen® specialist help? Trust TruGreen certified specialists to keep your lawn healthy and lush, so that you can enjoy it without worry. Visit TruGreen.com or call 866.688.6722 today to speak with a lawn care expert today!