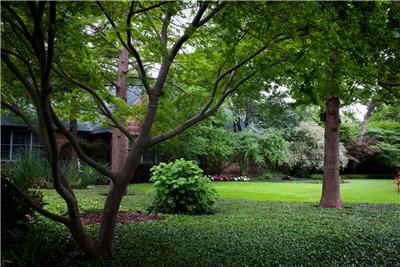 Green Lawn Care
on May 8, 2013 by TruGreen
Are you having trouble implementing green lawn care? Looking for an all-natural way to care for your lawn doesn't need to be difficult. If you're an environmentalist at heart, and you want to do your part to help the planet, there are definitely all-natural, green lawn care solutions available to meet your needs.
key factors in green lawn care
There are very specific things that your lawn absolutely needs in order to thrive, regardless of the type of lawn care companies you consult. But with green lawn care, those factors become more important, even if they can be a bit more time-consuming.
Nutrients. With green lawn care (or any lawn care for that matter), nutrients are absolutely essential for the health, color and composition of your lawn. But natural fertilizers are composed a little differently than synthetic ones. Natural fertilizers must contain carbon. The source of carbon may be organic, as in the case of manure, compost, or processed plant seeds such as soybeans and/or corn.
Moisture. Irrigation is critical for the absorption of nutrients and moisture in the soil. It gives the grass strength and vigor.
Attention. True, green lawn care uses no weed control; rather, the focus is on thickening the turfgrass so as to suffocate the weeds. While it is designed to prevent new weed growth, there's not much it can do about existing weeds in your yard. So as your lawn slowly reaps the benefits of natural lawn care, it's important that you are vigilant and aware of any changes such as weed growth in your lawn.
the TruGreen® TruNaturalSM lawn plan: an all-natural alternative
For those of us who love our lawns as much as we love the environment, we understand that we need the help of experts who understand the science behind natural lawn care and can effectively treat your lawn accordingly.
Whether it's summer, fall, winter, or spring, green lawn care alternatives—such as the TruNaturalSM Lawn Plan from TruGreen—are always an option. This all-natural lawn plan consists of 100% natural fertilizer that encourages natural growth and gradually improves lawn density. Rather than using traditional weed killers, growing turf the natural way crowds out the weeds and keeps them from growing. Still, if a TruNatural customer requests a hand-detailed weed application, TruGreen will provide it at no additional charge. This is 100% natural lawn care with minimal environmental impact.
the Healthy Lawn Guarantee®
Like all TruGreen lawn care plans, the TruNatural Lawn Plan is backed by the TruGreen Healthy Lawn Guarantee®, which says that a specialist will come out to your home as many times as necessary while your plan is in place to ensure your satisfaction*. Trust TruGreen to help you take your lawn from ordinary to extraordinary. Call TruGreen at 866.688.6722 or visit TruGreen.com to sign up for a lawn care plan today.