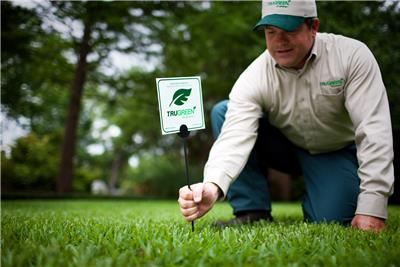 Lawn Care Company
on April 23, 2013 by TruGreen
You want a healthy, green lawn. You know, the type of lawn that makes your neighbors, well, green with envy. I get that. But do you have the time and, more importantly, the know-how to pull it off yourself?
Yes, many of you love to work in your yard, as evidenced by all those shiny new riding mowers and the flats of colorful flowers at your local big-box store. But it takes special knowledge and expertise from an established lawn care company to maintain beautiful green grass. Grass that's the envy of the neighborhood, of course. This is the kind of expertise and service that you can rely upon by partnering with a professional lawn service company, such as TruGreen®.
The experts at TruGreen will work with you to develop a tailored lawn plan to provide exactly what your lawn needs, exactly when it needs it.
Your lawn care plan will start with a Healthy Lawn Analysis®. During this initial step, a TruGreen certified specialist determines your lawn's needs by taking into consideration your type of grass, soil conditions, and climate. What else would you expect from a lawn care company that's been providing homeowners with beautiful lawns for almost 40 years?
Armed with this information, your TruGreen specialist will develop a lawn care service plan for making your lawn flourish. The plan includes a year-round fertilization program to ensure your lawn gets the nutrients it needs to thrive. Your lawn care plan will also include weed control, to keep those unwelcome and unsightly visitors from robbing your grass of minerals and precious water.
Lawn damaging insects that feed on roots of the grass in your yard can be unpredictable and create bare spots even on the nicest lawns. Depending on your tailored plan, your TruGreen certified specialist would calculate the appropriate time to perform preventative insect control, before those insects can do any harm.
The bottom line is, your lawn is unique and should provide you with a great sense of pride and pleasure. That's the reason it deserves the tailored services of an established lawn care company.
Sign up at TruGreen.com or call 866.688.6722 to speak with a certified specialist about creating a lawn plan tailored for you. Let the experts perform a Healthy Lawn Analysis® so you can be well on your way to having a lawn you love.