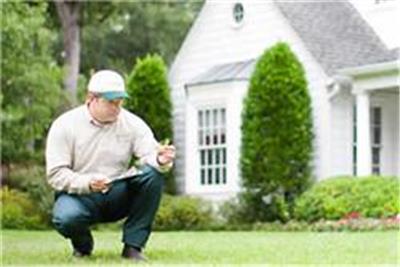 Lawn Aeration Services
on April 11, 2013 by TruGreen
Just as people need air to breathe, so do healthy and happy lawns. This is why lawn aeration services are a must with any lawn care regimen. Now, I know what you're thinking: "I've never had my lawn aerated, and it looks just fine to me." Your lawn may look fine, but if you notice any of the following things, chances are your lawn is begging for some much-needed airing out.
wait! what is lawn aeration?
Imagine, if you will, that your lawn is like your skin. Skin needs pores in order to absorb moisture, take in nutrients and air, all things necessary for healthy skin. Likewise, your lawn's "pores" need to be created and left open in order for it to take in nutrients and moisture, give room for plants to grow and breathe. These "pores" are created manually with an aerator. Lawn aeration creates holes in the ground to move the soil around and give it the break it so desperately needs.
signs you need lawn aeration services
Puddles form on your lawn after a rainstorm. If the ground isn't soaking up any rainwater, it's probably not soaking any water from anywhere, which is preventing much needed moisture and nutrients from reaching your soil.
Your lawn does not pass the "screwdriver test." The screwdriver test—which can also be done using a pencil—is an easy yet very accurate way to test your soil. Try sticking the screwdriver into the ground. Having difficulty doing so? It's time for a thorough aeration.
There is a thick layer of debris (also known as thatch). Thatch is a layter of living and dead organic matter that occurs between the green matter and the soil. Excessive thatch (over 1/2 inch thick) creates a favroable environment for lawn damaging insects and disease.
benefits of lawn aeration
Lawn aeration services achieve several benefits that together contribute to a healthy, growing lawn, such as:
Allowing air to get into the soil, feeding oxygen directly to the roots.
Allowing nutrients and fertilizers to reach deeper and near the feeder roots.
Loosening tight, compacted soil to allow roots to breathe and have a place to grow.
Allowing water to soak into the ground and reach the underlying roots.
Preventing and eliminating the threat of pests and lawn disease by breaking up thatch.
Do you love your lawn? Of course you do! But you love your family and your job as well, which means that, as much as you want to spend time aerating your lawn to keep it beautiful and lush, you may simply not have the time. Never fear, TruGreen® is here! Why not enlist our team at TruGreen to show some love to your lawn with lawn aeration services done by certified professionals? Never leave your lawn unattended again. Call 866.688.6722 today and learn more about lawn aeration cost, benefits and services.