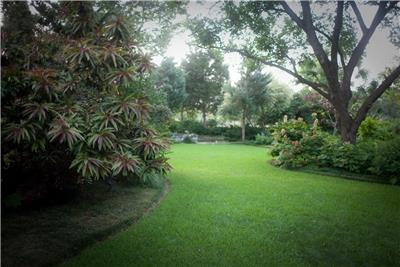 Lawn Aeration Tips
on June 22, 2013 by TruGreen
Everyone wants a lawn that is healthy and lush well beyond the summer months. Fall may be a difficult time for our landscapes—at least many people think so—but the experts at TruGreen® know that there are certain aspects of lawn maintenance, such as lawn aeration, that play a role in keeping your lawn at its absolute best. The temperatures and soil condition during late summer and fall allow for the right conditions in which a lawn can fully absorb water, air and nourishment.
lawn aeration: refreshing your lawn
Think of lawn aeration as a way of invigorating your lawn and opening it up to receive much needed moisture and fertilizer. Using an aerator or an aerator machine removes small cores of compacted soil and dirt from the soil. The holes, about 2-3 inches deep and usually no more than 4 inches apart, allow the soil to breathe and help the ground act as a sponge that absorbs everything it is given. Aeration also breaks up thatch to prevent soil compaction and hardening, making it easier for fertilizer to reach the grass seed at its roots. Don't worry, after a couple of rains and mowing the cores will be gone.
Core aeration is a particularly important part of the fall-scheduled maintenance, as it is often best done either in late summer or early fall, depending on whether you have cool season or warm season grasses, when the weather is neither too hot and dry, nor too cold. Regardless of what type of grass you have, however, this kind of advanced maintenance should be left to the experts at TruGreen because they have the equipment and knowledge to do the job right every time.
fall lawn aeration tips
Your lawn deserves to look its very best year-round, which is why scheduling a lawn aerating service every fall is the best way to ensure that your lawn gets the nutrients and moisture it needs to thrive. Here are some other lawn aeration tips to help you—and your TruGreen specialist—maintain your lawn the right way:
Clearly mark sprinkler heads, irrigation lines and other underground lines that may be in or around your lawn to avoid damage during lawn aeration.
Water the lawn thoroughly a day before your scheduled aeration. This softens the soil so that deeper plugs can be removed easily.
Seeding and fertilization is a must after fall core aeration. The lawn aeration process initially causes stress to your turf. However, it also enables the lawn to better recover through seeding and fertilization. Be sure to make both of these steps a vital part of your fall lawn aeration plans.
Let the plugs disintegrate into the lawn. The plugs—thatch that is removed thanks to the lawn aeration­—contain nutrients that, once they are broken down in a couple of weeks, will seep right back into the lawn.
You want a beautiful, perfect lawn year round. That is why, when it comes to lawn aeration tips for the fall, no one comes close to understanding the science behind the lawn care like the experts at TruGreen. Contact your local TruGreen lawn specialist today by visiting TruGreen.com or calling 866.688.6722.