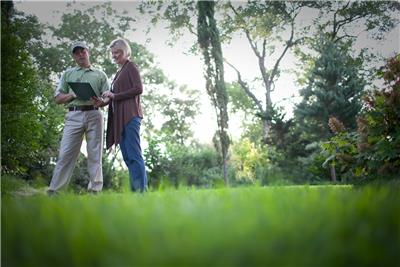 Lawn Aeration Service
on May 9, 2013 by TruGreen
You know you need healthy grass to have a lawn you can love, and there is no better way to revitalize your lawn than through a lawn aeration service. When it comes to lawn care, aeration, often called core aeration, can help make your lawn thicker by increasing the effectiveness of normal irrigation, fertilizers and pest control programs.
This is done by poking holes in your lawn with a specialized piece of machinery called an aerator or aeration machine and leaving small cores of soil on the surface of your lawn. These are not big holes; they're small holes and the resulting cores of soil are about the size of a nickel and about 2-3 inches in length. Don't worry, after a couple of rains and mowing the cores will be gone.
Lawn aeration services can significantly improve the health of your lawn because core aeration provides the roots of the grass with greater access to air, water and fertilizer.
lawn aeration benefits:
A lawn care aeration service and the process of pulling the cores provides the following benefits:
Better air exchange. Aeration "opens" and gives your lawn's roots more room to "breathe." This helps strengthen your lawn by increasing the size and quantity of your lawn's roots.
Improved fertilizer absorption. Because aeration opens the soil, more food reaches your turf's roots. More food helps grass grow more roots.
More efficient water usage. Aeration lets water flow directly to grass roots and means that you use water more efficiently.
Improved resistance. A healthy root system increases your turf's ability to survive if diseases or pests attack your lawn.
Enhanced thatch breakdown. Millions of beneficial microbes live in your soil and eat thatch removed by the aerating process. By eating thatch, microbes release nutrients into your soil, which your turf absorbs.
Thatch is that tightly interwoven plant material located just above the soil surface that can prevent nutrients and other necessary items from reaching grass roots. Certain species such as Bermudagrass, St. Augustine grass and Kentucky bluegrass are more susceptible to thatch. If you notice that this layer of material (basically stems, shoots and other vegetative material at the soil surface) is more than half an inch thick, it may be time to schedule a lawn aeration service.
How often should you consider a lawn aeration service? As a general rule, you should consider an aeration of your lawn once a year. However, twice a year may be necessary if the soil of your lawn is compacted.
This leaves us with the question of the best times to consider lawn care aeration. Lawns should be aerated when they are actively growing. Cool-season lawns should be aerated in the spring or fall, and warm-season lawns in late spring or summer. TruGreen®, a provider of lawn aeration services, knows the science behind when you need your lawn aerated. A TruGreen PhD-certified specialist is trained to recognize conditions that can negatively affect the health of your lawn and suggest products and services to make it the envy of your neighborhood.
Every TruGreen lawn plan begins with a Healthy Lawn Analysis®, which is performed by a TruGreen PhD-certified specialist. This analysis helps TruGreen create a tailored approach that gives your lawn exactly what it needs to reach its full potential. To learn more about lawn aeration and how it can be used to achieve a lawn you'll love, call 866.688.6722 or visit TruGreen.com.