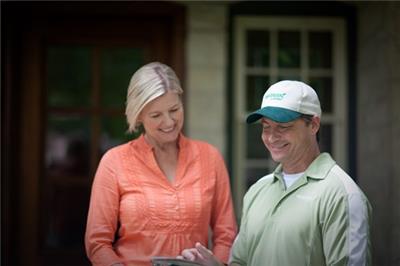 Lawn Aeration Equipment
on May 12, 2013 by TruGreen
Lawn aeration can be an incredibly beneficial service for your lawn, when done with the proper lawn aeration equipment at the right times of the year and under the right environmental conditions. Also known as core aeration, this process opens the soil so that nutrients, water and air have easier access to grass roots, which helps thicken and restore the vitality of your lawn.
However, lawn aeration is also one of the most physically demanding services performed on your lawn, especially if you have to do it with a machine called a lawn aerator from a rental yard. These units are often bulky older models, and they require more than a fair bit of labor on the operator's part.
Lawn aeration can be performed with a "spiker" pulled behind a tractor (usually a lawn tractor) or with a self-propelled, gasoline-powered lawn aerator unit equipped with hollow tines that punches holes in the lawn and extracts plugs of turfgrass thatch and soil. Ideally, these plugs (cores) should be about 1/2 to 3/4 of an inch in diameter, 2 to 3 inches in length, and pulled every 6 inches on average. Knowledgeable turf experts, such as a TruGreen® certified specialist, use professional-grade, self-propelled units.
the benefits of lawn aeration:
A lawn aeration service and the process of pulling the cores provides the following benefits:
Better air exchange. Aeration "opens" and gives your lawn's roots more room to "breathe." This helps strengthen your lawn by increasing the size and quantity of your lawn's roots.
Improved fertilizer absorption. Because aeration opens the soil, more food reaches your turf's roots. More food helps grass grow more roots.
More efficient water usage. Aeration lets water flow directly to grass roots and means that you use water more efficiently.
Improved resistance. A healthy root system increases your turf's ability to survive if diseases or pests attack your lawn.
Enhanced thatch breakdown. Millions of beneficial microbes live in your soil and eat thatch removed by the aerating process. By eating thatch, microbes release nutrients into your soil, which your turf absorbs.
While the idea of getting your hands on a powerful, gasoline-powered lawn aerator machine and core aerating your lawn might seem like a fun way for the typical DIYers to spend a Saturday, you should stop and think this through before heading to the local rental yard.
lawn aeration pitfalls & risks:
Lawn aeration equipment is heavy and awkward to transport. Whether it's self-propelled or a unit you pull behind your lawn tractor, it's not something you can fit snugly into the trunk of the family sedan.
Once you fire up your lawn aerator rental, get ready to shake, rattle and roll. You will discover that after spending a weekend day behind a self-powered walk-behind lawn aerator, pulling cores of your lawn, you will definitely feel it in your bones the next the morning. The types of lawn aeration equipment that do the best job on your lawn is powerful because it takes force to pull cores, especially if the soil is compacted, one of the main reasons to pull cores in the first place.
But, these are just the physical travails that an inexperienced operator using rental equipment is likely to encounter. Beyond the hassle and expense of getting and using a heavy, noisy lawn aerator, the eager but inexperienced DIYer may actually harm their lawn by aerating it at the wrong time of the year or during unfavorable environmental conditions, such as during a drought.
when to aerate your lawn
It's best to core aerate lawns when the grass is actively growing. That's the best time to maximize the benefits. Cool-season grasses should be aerated in the spring or fall, and warm-season grasses in the late spring or summer.
Also, lawns should be aerated at least twice a year where significant thatch or soil compaction is present. It's not likely that a DIYer is going to want to go give their lawn that kind of attention, especially after what they went through in their previous experience aerating their lawn.
how TruGreen® can help
TruGreen® PhD-certified specialists can advise you on not only lawn aeration, but a full range of lawn care services that can be tailored to meet your lawn's unique needs.
As America's lawn care leader, TruGreen uses modern, efficient lawn aeration equipment in its science-based approach to lawn care and their agronomists have the training and expertise to help restore your lawn to health and beauty. To learn more about the TruGreen commitment to a healthy lawn, or to sign up for a lawn care service plan, visit TruGreen.com or call 866.688.6722 today.