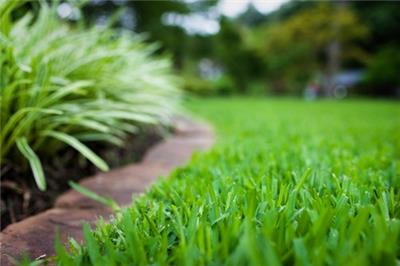 on May 29, 2013 by TruGreen

Everyone wants to know how to get a green lawn, right? There are many lawn maintenance practices that will help give you a healthy, lush and, yes, green lawn, but let's start with its most obvious needs—nutrition and water. Turfgrass needs each one of these in just the right amounts and at just the right times to reach its fullest potential.

Since fertilization is one of the most important factors for getting a green lawn, let's review some basic facts about lawn fertilizers. When you look at a bag of lawn fertilizer you will notice three numbers, such as 10-10-10 or 20-5-10. These numbers represent the percentages of nitrogen, phosphorous and potassium in that particular mix. The first number is nitrogen, which makes grass plants grow and become greener. The second number is phosphorus, which stimulates root and seedling development; and the third number is potassium, which promotes tolerance against disease and drought. Nitrogen is the element most responsible for getting a green lawn.

Your lawn requires precise amounts of nitrogen and the other elements to stay healthy and green. Using too much fertilizer wastes money and promotes too much growth; using too little fertilizer will leave your lawn thin and lackluster. A TruGreen® PhD-certified specialist is trained to 'feed' your lawn with a slow-release fertilizer formula at key points in every season to stimulate and maintain growth.

As far as irrigation, Mother Nature will often help you. But, when she gets stingy and the soil dries, your lawn will show signs of distress.. In general, deep and infrequent watering is better for well-established turfgrass than frequent, light watering.
how to get a green lawn: aeration & overseeding
Lawn aeration and overseeding are vital lawn care services that, because they result in healthier turfgrass, will help your lawn to stay green.
Aeration requires the use of a machine called a lawn aerator to create "pores" in the ground, between one-half and three-quarters inches in diameter, loosening the hardened earth and allowing nutrients and fertilizer to move around. The cores that are pulled out of the ground with the lawn aerator are placed on the soil surface, to be broken up by irrigation, mowing or rainfall.
Overseeding, another special service, is just what it sounds like; it involves putting down fresh grass seed on areas of the lawn that are thin, damaged or on areas of bare soil. Often, overseeding is done just before or after plugs are pulled from the soil with an aeration machine.
If keeping your turfgrass healthy and getting the green lawn you desire seems like too much for you (and it is for most of us), consider contacting TruGreen, the nation's leading lawn care service provider.
how to get a green lawn: TruGreen
TruGreen offers a range of science-based lawn plans designed to give your lawn the right help at the right time. That's why every TruGreen plan begins with a Healthy Lawn Analysis® performed by a TruGreen PhD-certified specialist. The lawn specialist will evaluate your climate, soil condition, grass type, and lawn usage to determine your lawn's specific needs. Based on this analysis, your TruGreen lawn expert will recommend services designed to restore your lawn back to its full, vibrant health and beauty.
TruGreen lawn plans include, the TruGreen Healthy Lawn Guarantee® which protects your lawn. You'll love your lawn, guaranteed, otherwise TruGreen will make any necessary adjustments to ensure your satisfaction.
If you're still wondering about
how to get a green lawn
, visit
TruGreen.com
or call 866.688.6722 today.