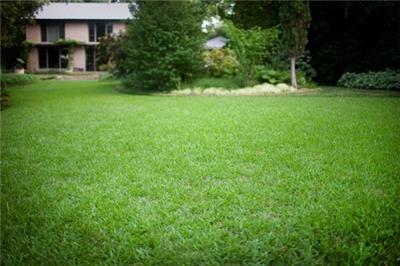 How Do I Get Green Grass
on May 17, 2013 by TruGreen
Here's a question you may have not asked yourself in a long time: "How do I get green grass?" After all, that's what we all want for our lawns, right? Green grass is an invitation for kids to play, a display for neighbors to admire and a benefit to the environment. There are many factors that contribute to grass looking healthy, green and lush all year long. What most people don't know is that there is science behind great-looking grass.
how do i get green grass? tips for green grass
If you're wondering how to get a lawn you will love, here are some tips that can help you achieve a green lawn:
Fertilization is an effective way to give your soil the nutrients it needs in order for grass to grow healthy and strong. This isn't just about feeding your soil, though; it's about giving it the right nutrients. The correct mix of nitrogen, potassium and phosphorus is an essential part of getting you on the right track to having a green lawn.
Weed control is another important step toward achieving a healthy, green lawn that you will love. Why? Weeds compete with your lawn for much-needed water and nutrients. Frankly, your lawn doesn't need that kind of competition. That is why applying preemergent will put you ahead of the game when it comes to the health of your lawn, especially as the growing season approaches.
Watering your lawn is perhaps the easiest step to take care of on your own. Proper watering is such an important factor when addressing the question of how to get a green lawn because many people don't know how much water their lawns need. Typically, most lawns are okay with one to two inches of water per week, maybe a little more during the hot summer months.
how do i get green grass? TruGreen®: the green grass experts
Part of knowing how to get green grass is realizing that you can't do it all. Sure, you can handle the mowing and the watering, but do you understand the agronomic principles behind healthy, green grass? Do you know which nutrients your lawn desperately needs, and what kind of preemergent to use to get rid of invasive weeds?
Thankfully, TruGreen's PhD-certified specialists are knowledgeable in the science behind achieving green grass. They know what it takes for your lawn to not just look green but to be healthy as well, and they understand how to get green grass that will stay lush over time. With plans to match every lawn, TruGreen focuses on your lawn's individual needs and tailors a treatment plan based on the results of a Healthy Lawn Analysis®.
Let a TruGreen specialist answer your question, "How do I get green grass?" Sign up for a lawn care plan that will help you achieve the lawn you love by calling 866.688.6722 or visiting TruGreen.com today.