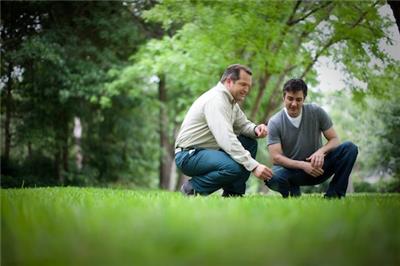 Weed Control Services
on May 1, 2014 by TruGreen
It's that time again. Dandelion puffs are popping up all over your carefully curated lawn. What's a lawn-loving homeowner to do?
Successful weed control for your yard requires year-round strategy and planning. The PhD-certified specialists at TruGreen can help you administer the right applications at the best times of year—giving you the greatest chance at that lush, glorious lawn you'll love. Preemergent weed control in the early spring, postemergent weed control in the summer and fall, and overwinter applications should work together to protect your grass from unwanted infiltrators year-round.
All of TruGreen's popular lawn care packages include some type of weed control:
TruMaintenanceSM: This basic package includes preemergent weed applications, targeted weed control geared to your lawn's particular needs, and fertilization for annual yard upkeep.
TruHealthSM: The TruHealth plan adds pest control and soil amendment to the basic package, making sure your yard is healthy and ready to fend off incursions from unwanted weeds.
TruCompleteSM: TruComplete adds overseeding and soil aeration, which helps stop weeds before they start by keeping soil and grass healthy and thatch buildup under control.
TruSignatureSM: The TruSignature package adds tree and shrub care, so your whole yard can be as lush and healthy as your lawn. When your backyard ecosystem works in concert, weed control comes naturally.
When you become a TruGreen customer, you'll gain access to specialized knowledge in what your lawn needs to eradicate weeds and look its very best. Your TruExpertSM specialist will conduct a Healthy Lawn Analysis® to help you understand the individual personality and needs of your unique yard. (You don't have to be present during your specialist's first visit, though we always encourage it.)
Once your TruGreen specialist understands your yard inside and out, they will combine preemergent weed control, targeted to keep weeds from sprouting, with herbicidal applications throughout the year to combat any weeds that do germinate. TruGreen's year-round, total care approach to yard health makes weed control part of the process, rather than an after-the-fact, last-ditch attempt to control weeds that are already taking over.
To learn more about TruGreen's weed control services and their Healthy Lawn Guarantee® visit TruGreen.com or call 866.688.6722 to start working with a PhD-certified specialist today! You can also get valuable lawn care tips by visiting the TruGreen Learning Center and TruGreen on YouTube. And don't forget to connect with TruGreen on Facebook and Twitter.