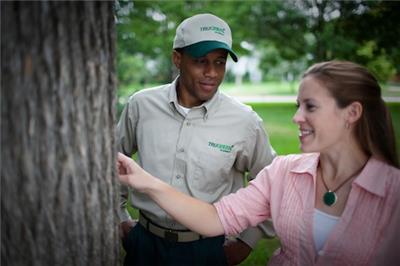 Trees and Shrubs
on April 28, 2014 by TruGreen
You know the grass isn't the only part of your lawn that needs attention, right? Those trees and shrubs in your landscape require a special level of care that only the right tree services can provide. With TruGreen's tree and shrub services, you have nothing to worry about. Their science-based solutions and tailored approach ensure that your trees and shrubs will look as great and be as healthy as the rest of your lawn.
If you're a homeowner who loves your yard and wants healthy trees and shrubs but don't have the time or expertise to really care for them properly, you also may not have the necessary knowledge to know which tree services you need. TruGreen has a solid reputation for knowing the science behind proper tree and shrub care, increasing your home's curb appeal and giving your yard the specialized care it requires.
about your TruGreen tree and shrub services
TruGreen's TruExpertSM Tree & Shrub Specialists undergo extensive agronomic training to really understand the science behind caring for trees and shrubs effectively. After all, from plant diseases to environmental factors, there are a number of reasons why your trees and shrubs could be unhealthy or looking less than their best.
But what is the TruGreen difference? Your TruExpertSM Tree & Shrub Specialist understands everything pertaining to the healthy growth and maintenance of your trees and shrubs, and he is dedicated to helping you achieve a lawn you'll love. In other words, you're leaving your trees in the care of people who really care not just about the quality of your tree service, but the lasting effects of proper tree maintenance.
what can you expect from your tree & shrub service?
TruGreen sends a TruExpertSM Tree & Shrub Specialist to assess your tree service needs. Once you call for a free quote and sign up for TruGreen's tree services, your certified specialist will conduct a comprehensive Tree & Shrub Evaluation® to understand the your specific needs and to tailor a maintenance plan that is right for you.
What is your specialist looking for? When your certified specialist evaluates your trees and shrubs, he looks for insects, signs of disease, and other areas of concern that can be detrimental to your trees' health and growth.
You're covered by the Healthy Tree & Shrub Guarantee®. As long as your Tree & Shrub maintenance plan in place, your TruExpertSM Tree & Shrub Specialist will come out to your house as many times in between scheduled visits as necessary to ensure your satisfaction.
Get started today! Call 866.688.6722 and speak to one of TruGreen's tree service experts or lawn care specialists. They will walk you through the available plans and help you determine which tree services may best suit your needs. Once a plan is chosen, the Tree & Shrub Evaluation® will determine how to tailor a plan to best suit your tree and shrub needs. There are various payment options available, and the online account management tools make managing your TruGreen services a breeze.
Don't leave the health of your tree and shrubs in jeopardy. Visit the TruGreen YouTube channel at www.youtube.com/TruGreen today for expert lawn care tips and to learn more about what to expect from your TruGreen services. You can also connect with TruGreen on any of their social media communities such as Facebook, Twitter, Pinterest and Google +.